LHS

grad Bowen closes out career at

MSSU
Racheal Bowen, a 2003 Lansing High graduate, recently closed out her college softball career at Missouri Southern State University.
A four-year starter at first base, Bowen capped her career by being named to the All-Mid-America Intercollegiate Athletics Association squad as an honorable mention selection. It's the second time in her career she has received such an honor.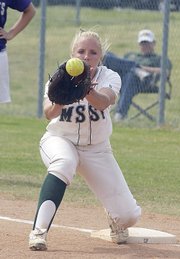 Bowen started all 187 games of her career and had a career .239 batting average with 30 doubles and three home runs. She was fifth on the team this season with a .233 average and second on the team with 35 hits.
Bowen was second on the team in hits, doubles, total bases and batting average as a freshman. She also led the team with 18 RBI, had 10 multi-hit games and five three-hit that year while earning her first honorable mention All-MIAA recognition.
She also made 10 pitching appearances as a freshman and compiled an 0-2 record.
As a sophomore, she was the team leader in sacrifice hits.
During her junior season, Bowen was second on the team in RBI and batting average. She also had a team-high nine doubles.
Bowen, a health promotion and wellness major, also was named to the MIAA Commissioner's Academic Honor Roll for the third straight year.
Bowen will attend Rockhurst University in the fall and pursue a master's degree in physical therapy. She is the daughter of Ben and Brenda Bowen.