State meet no sweat for Hauver
Lansing High junior has career day, vaults to No. 2 on
LHS

record list
Wichita — The only thing that could've made Bobby Hauver's state track meet any better would've been winning a medal.
His consolation prize - setting two personal bests in the pole vault - gave him plenty to feel good about, however.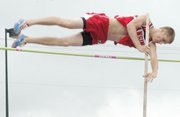 Hauver entered the Class 5A state meet with a personal best clearance of 12 feet. He broke that mark not once, but twice, at state on Friday at Cessna Stadium.
Hauver cleared the opening height of 11 feet, 6 inches, on his first try. He then cleared 12 feet on his second attempt. He set a new personal record by clearing 12-6 on his first try. Next, he cleared 13 feet on his first attempt.
"To do that in this environment is great," LHS coach Errol Logue said. "I told him coming in that the biggest thing you have to do is deal with the environment, not the vault. You've got to be able to come into this environment and deal with your emotions, and he did it."
If not for a miss on his first vault at 12 feet, Hauver would've reached the medal stand by finishing in the top seven. Instead, he was bumped to ninth in a tie-breaker.
Clearing 13 feet is particularly impressive considering Hauver struggled to make it over 10 feet consistently last year.
"I'm pretty pleased to see that I can clear 13 now," he said. "Next year I'm eager to see what I can do, just get up there and medal next year."
Despite missing out on a medal, Hauver made his way into the LHS record books.
"We've had guys go 12 and 12-6," Logue said. "But 13-foot is the second-best vault in Lansing history."
Frank Angelone is the only other LHS vaulter to have cleared 13 feet or higher. He went 14-6 and placed second at state in 1978.
Just like he wasn't satisfied with placing ninth, Hauver said he's not content to remain No. 2 on Lansing's list of pole vaulters.
"It means a lot to me (to be second)," he said. "I'm trying to get first, though. We'll see what happens."