The graduation of Matt Peterson, Lansing High School Class of '07, on Saturday, May 19, marked the end of an era for a local family.
For the first time in 40 years, there won't be a member of the Peterson clan enrolled in the Lansing School District.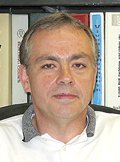 Matt's father, Jon, LHS class of '79, started the streak in 1966 when he began grade school in Lansing. His younger brother Pat graduated two years after him, and his sister Amy graduated in 1989, "the same year my daughter Chrissy started kindergarten," Jon Peterson said.
"It's a long stretch. I don't know if it's the longest or not," he said. "The Filberts or the Youngs might have us beat."
Jon now works alongside his father, Pete, and his brother, Pat, at Lansing Lumber Inc., but manages to stay involved in the schools doing what he calls his "favorite job," announcing Lansing High football games, which is something he's done for the past 21 years.
"I've seen all kinds of teams good and bad," Jon said, who played football in his high school days. "It's all about the kids, though. I'm just there to make sure I get their names right."
Over the years, the Peterson name has become a familiar one for local builders and contractors. Pete started working at Lansing Lumber in 1966 and bought the store in 1983. Jon has worked there since 1982.
"Obviously, (knowing the customers well) helps business," Jon Peterson said. "Really, it's like you have a lot of friends, I guess."
NAME: Jon Peterson
ADDRESS: Lansing Lumber, Inc., 211 N. Main St.
OCCUPATION: Store Manager
FAMILY: Glenna, wife; Chrissy, 23, daughter; Greg, 20, son; Matt, 17, son
HOW LONG HAVE YOU LIVED IN LANSING AND WHAT BROUGHT YOU HERE? "Since 1966. My parents brought me here when I was 5 because my father got a job here (at the lumberyard)."
WHAT DO YOU LIKE MOST ABOUT LANSING? "The people are friendly. It's a small town, friendly atmosphere. I know a lot of people, and I like that."
WHAT DO YOU DO FOR FUN? "I play golf, work out every day and I like working in the yard."
WHAT WOULD SURPRISE PEOPLE ABOUT YOU? "People may not know I'm the voice of Lansing Lion football."
WHAT'S THE BEST ADVICE YOU'VE EVER RECEIVED? "A buddy of mine's dad told me, 'Marriage is not 50-50; it's more like 80-20, and you know who gets the 20.' I also heard somewhere to never buy fresh seafood from a truck with Kansas plates."