Craig, Jaqua land in top 20 at state meet
Lawrence — After watching Lansing High sophomore Brandon Craig earn an individual medal in round one of the Class 5A state cross country meet, sophomore runner Lauren Jaqua had an added incentive to equal his feat in the girls race on Saturday at Rim Rock Farm.
And she did.
Craig placed 15th in the five-kilometer boys race in 17:09.71, and Jaqua placed 16th in the four-kilometer girls race in 16:13.72, earning a medal of her own and earning longtime coach Errol Logue his first individual medals since the Lansing program moved to 5A in 2005.
"We're tickled with both of them," Logue said following the races. "Brandon didn't run a good first part of the race. He was tentative in the beginning, but then he took over."
Craig, who barreled across the finish line passing several runners along the Jim Ryun Skyline, improved 65 spots over an 80th-place finish his freshman year.
"I was a little nervous last year," Craig said. "Today it was just another race; last year it felt like the state race."
Jaqua also greatly improved since her first state appearance and, like Craig, picked up steam as the race went on.
"I just felt my body totally take over and went to a new level," Jaqua said. "I'm really happy with my performance, and I'm so happy with my team."
Her strong performance - an improvement of one minute and 15 seconds over a 55th-place finish last year - led the LHS girls to a 10th-place finish in the team standings.
Wichita Bishop Carroll won the team title with 63 points, Topeka Seaman was second with 80 and St. Thomas Aquinas was third with 112.
Emporia senior Michaela Reynolds was the overall champion in 14:55.59, 13 seconds ahead of runner-up Ashley Washburn of Aquinas.
A particularly bright spot on the girls' side was sophomore Sarah Nielsen, who ran her fastest race of the season by 10 seconds, placing 25th in 16:31.17 eight seconds away from a top 20 finish that would've earned her a medal.
"She's a first year runner," Logue pointed out. "How many times does a kid get to the state meet and do that well in their first year? She was tremendous."
Photo Gallery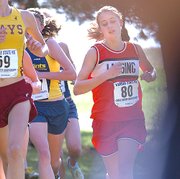 Class 5A state cross country
Sophomore Melanie Pilkington was 56th in 17:20.34; sophomore Julia Winkler was 76th in 18:03.28; sophomore Kate Meara was 89th in 18:42.60; freshman Cassie Roberts placed 91st in 18:51.01; and sophomore Abbey Lozenski was 94th in 19:11.15.
Lozenski, who ran three seconds slower than in last year's state meet, ran with the flu Saturday and showed lingering effects of a mid-season ankle injury.
"Had she (Lozenski) been healthy," Logue said, "We would have achieved our team goals."
In addition to Craig, Lansing had two more individual boys qualifiers who competed Saturday. Senior Griffin Davis placed 69th in 18:44.86 and freshman Pete LaMoe was 82nd in 19:09.56.
Bryce Volz of Bishop Carroll was the overall boys champion in 16:02.71.
Emporia won the boys team title with 51 points, Aquinas was second with 83 and Wichita Kapaun-Mt. Carmel was third with 94.
After the meet, Logue already was looking toward his 40th season of coaching at Lansing.
"With everyone returning (on the girls team), you have to be pleased with next year," he said.
As for Craig?
"Next year we go for seven and, the year after that, the whole thing," Logue said with a big laugh.