LHS

volleyball takes 4th in 5A
Topeka — The fourth-place medals that dangled from the necks of Lansing High's volleyball players Saturday afternoon bore deep significance.
At present, the medals represent just how great of a season the Lions had while posting a 40-5 record and placing fourth at the Class 5A state tournament.
Photo Gallery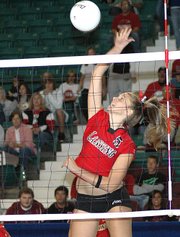 State Volleyball: Day One
But there's also the element of the future that those same medals hint at. Seven of the 12 Lions on the state team will be back, and those seven left the Kansas Expocentre with a bit of satisfaction, a bit of disappointment and serious expectations about making another postseason push next season.
"We made it so far, and we played so well," junior Julia Bates said. "Even though we didn't get first, it was still a pretty good outcome for the whole season."
After advancing from pool play on Friday by going 2-1, Lansing dropped a 25-12, 25-15 decision to Bishop Miege on Saturday morning in the semifinals and then lost to Newton, 25-21, 25-21, in the third-place match.
LHS faced a tall task in No. 1-ranked Bishop Miege - the eventual state runner-up after it lost to rival St. Thomas Aquinas in the finals, 25-22, 25-22. Miege hadn't lost to an in-state opponent all season, but the Lions hung around early in game one and trailed just 8-6 at one point. After the Stags opened up a 12-point lead, the Lions countered with a 4-0 run and were clawing back when senior captain Kristen Jensen dove head-first into the scorer's table trying to keep a ball alive.
Jensen received a large cut on the back of her head, and after eight minutes of medical treatment she walked under her own power to a waiting ambulance that whisked her away to the hospital for stitches.
Even with Jensen out of the lineup, the Lions battled tough, but the Stags simply had too much firepower.
"I've never been more proud of my team : any team ever : because I've never had anything like that (Jensen's injury) happen," LHS coach Julie Slater said. "That was just pretty devastating."
LHS played Newton much better in the consolation match than when the teams met Friday in pool play, but the Railers' 6-foot-2 hitter Camri Zwiesler and 5-foot-11 Katelyn Alexander proved to be effective consistently throughout the match. Zwiesler had 12 kills, two blocks and an ace in the match and Alexander had five kills.
Photo Gallery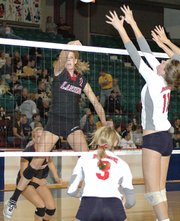 State Volleyball: Day Two
Lansing had a tough day Friday in pool play, but the Lions used toughness and hustle to survive a difficult opener with Emporia, 25-23, 22-25, 25-23, and then shook off Great Bend, 26-24, 25-16. Their only loss on opening day was a 25-17, 19-25, 25-9 loss to Newton.
Lansing finished the season with four tournament titles - Lansing Invitational, Louisburg Invitational, Garnett-Anderson County Tournament, Class 5A substate tournament - an undefeated Kaw Valley League championship and a fourth-place finish at state. The Lions also set a program record for wins in a season.
Slater credited her five seniors - Jensen, Sara Logan, Katie Nietzke, Morgan Chiles and Erin Griffen - for showing the leadership necessary to make this season successful.
"I could go on and on about them," Slater said of the seniors. "They're all competitors and have been fabulous all year. They have great attitudes and have been willing to sacrifice playing time. They understand their roles. They were supportive on the bench or on the court, and they did whatever was needed."
Slater said the seniors' leadership provided the groundwork for a team that jelled quickly and played with fire.
"Their chemistry has been amazing," she said. "They truly love each other and they play together. They play hard and have a lot of heart and passion for the game."