Lions ready to make splash in playoffs
LHS

takes aim at Gardner, eighth straight win
For the fourth year in a row the Lansing High football team is preparing for a state playoff game, and for the third time in four years the game is at Frank Graham Field.
Lansing (8-1) will play host to Gardner-Edgerton (6-3) at 7 p.m. Friday in Class 5A regional action.
LHS never has won a regional game, but coach Bill Pekarek said he's hoping that will change this year. The key, he said, might be to do less thinking and more playing.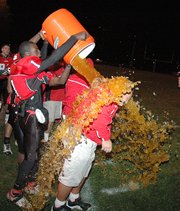 "We're not going to try to over-think and do all that," said Pekarek, whose team is 29-12 in the past four seasons. "We're just going to work on trying to play hard and be aggressive. I think in other years we tried to be too technical. In the last four weeks we've tried to turn it into where we quit running around so much and just line up and react to what we see."
In recent weeks Pekarek has had his players simply line up and play. The strategy: Focus on what you're good at, hit harder than the opponent and have your playmakers step up.
That plan has been effective for LHS as it has piled up more than 1,600 yards of offense and forced 10 turnovers during the past four weeks.
The challenge is to keep the good vibes going that the Lions have built during a seven-game winning streak. The Trailblazers enter the game having won three of their last four games. They run a fairly balanced offense with quarterback Zach Carlton as the centerpiece. He threw for 951 yards and 10 touchdowns through the first eight games. He also has rushed 87 times for 395 yards.
Carlton has become a greater factor in the running game during the past four weeks since tailback Nick Pierson (132 carries, 711 yards, 10 TDs) went down with an injury. His status for Friday's game is uncertain. Another running back, Taylor Richardson, has picked up the slack with 294 yards on 53 carries, and Dominique Peoples has 193 yards on 43 rushes.
"They want to run the ball at you first, and then they're going to try to throw a little play-action on you," Pekarek said.
Pekarek said the Lions will stick to what has been working so far - pounding the ball with Chris Hill (116 carries, 777 yards) and Brad Terron (75 carries, 586 yards) and running the option with quarterback Bobby Hauver (76 carries, 465 yards). Pekarek also said they will do as they've done all season and look to the seniors to make things happen.
"Our senior class has been good leaders," he said. "They're determined that they're going to be successful and that they're going to win. I think that has been a lot of the drive behind our success, because these guys are very serious that they're going to win, and they're going to come up with the play that makes a difference."