Providing care is her life
As a longtime caregiver, it just made sense for Tonia Mein to start working at A Deere Place daycare six years ago.
"I've just taken care of kids all my life," Mein said. "That's what I've done since the time I was old enough to baby-sit."
The assistant director said she was excited above the daycare's move from the Sallie Zoll building at Lansing Elementary, where it has been operating for the past 10 years, to a new facility in the Lansing Business Park on Gilman Road east of Kansas Highway 7.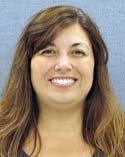 A Deere Place's new location opened for preschool and half-day kindergarteners Monday and will begin bussing in school-age kids tomorrow during an after-school open house, which will be open to the public starting at 4:30 p.m.
"It's going to be nice to have our own place, do our own thing," Mein said. "We have a great staff, great kids and great families."
Mein said the daycare will serve children preschool through fifth grade from 6:30 a.m. to 5:30 p.m.
"And they'll be breaking down the door at 6:30," she added.
Although there are good days and days that can be a bit more trying, Mein said she's learned that "you have to deal with each kid individually and see what works best for their personality.
"It's hard sometimes, but you just have to know the kids."
NAME: Tonia Mein
ADDRESS: 1104 Industrial Rd. (A Deere Place)
OCCUPATION: Assistant Director, A Deere Place
FAMILY: Gordon, husband; Lucas, 13, son; Derek, 11, son
HOW LONG HAVE YOU LIVED IN LANSING, AND WHAT BROUGHT YOU HERE? "I've been here since I got married and moved here with my husband in 1993."
WHAT DO YOU LIKE MOST ABOUT LANSING? "It's a small town, but it's not too far from the city."
WHAT DO YOU DO FOR FUN? "I spend a lot of time running around with my kids doing activities."
WHAT MIGHT SURPRISE PEOPLE ABOUT YOU? "Most people know I'm a huge KU fan : I just got a Jayhawk tattoo; most people wouldn't know that."
WHAT IS THE BEST ADVICE YOU'VE EVER RECEIVED? "I like to say, one of the big things with the kids is to always be respectful. If you don't want someone to do something to you, don't do it to them."
WHAT CLUBS OR ORGANIZATIONS DO YOU BELONG TO? Lansing PTA