A 5-hour tour of New York
Friendship, local support helps Cameron, Kelly achieve goal
Spectators roared with approval Sunday afternoon as cycling legend Lance Armstrong crossed the finish line of the ING New York City Marathon in 2 hours, 46 minutes, 43 seconds.
Actress Katie Holmes received similar fanfare when she finished in 5:29:58.
Although less recognized in New York, Lansing residents Vickie Kelly and Tera Cameron also had plenty of ecstatic supporters awaiting word that they'd completed the 26.2-mile race.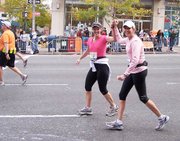 In addition to Cameron's husband and a friend of Kelly's waiting at the finish line, friends and family back in Lansing also were glued to the event via Internet and telephone.
"There was so much support from people here at home," Kelly said. "From notes to cards, we had a lot of support and a lot of people that were so positive, even before we left. It was very nice to have lots of good wishes and prayers.
"Even before we finished we had people calling and wanting to know all about it," she added, noting that the marathon had an online tracking system that sent e-mail updates to friends every five kilometers throughout the race.
Cameron raved about the support of New Yorkers and the 39,000 other runners, too.
"Just the humanity of it all was impressive," she said. "You're on the same course with people from all over the world, probably half from other countries and having one common goal. I was just so touched by that."
Although the spectators and runners gave them a much-needed boost, both women agreed that they couldn't have done it without each other. It's no surprise that they finished side by side, Kelly in 32,404th place and Cameron in 32,405th, and both in 5:16:09. Their plan was to run together and help each other achieve their goal.
It's the same way they trained during 24 weeks of preparation on the streets and sidewalks of Lansing. Whether running pre-determined distances, cycling, doing yoga or cross training, they stayed committed to their plan.
"We were pretty strict in our training, and diet played a big part," Cameron said. "I think that's exactly what helped."
Cameron recalled the St. Louis Marathon in 2004 when she and Kelly's workouts consisted only of running. An injury kept Kelly from racing, and Cameron "didn't run for about six weeks" after the race because her legs hurt so much.
"This one was a totally different experience for me," Cameron said.
On Sunday morning they left their hotel at 6 a.m. and made their way across town for the 10 a.m. start.
The race began without a hitch, and Cameron and Kelly felt good as they began their race-long tour of the city's famous five boroughs. After starting on Staten Island, they cruised through Brooklyn and Queens.
At mile 15, however, soreness set in as they trotted across the Queensboro Bridge.
"My quadriceps started burning and really hurting, and Tera was having calf problems," Kelly said. "We were both thinking this wasn't feeling good, but we'd both decided we were going to stick together.
"Having someone there having a little bit of pain with me really helped."
Cameron agreed, adding, "It was a huge help to have a friend by my side."
They pushed through the pain and continued through the Bronx and Manhattan before running the final three miles in Central Park. All the while their legs ached, but they pressed ahead.
"The people in New York kept us going," Cameron said. "But sometimes when I started feeling tired I thought about all our hometown support, friends and family."
Both women said they were exhausted by the time they finished, but they also said they felt a major sense of accomplishment.
"There's a T-shirt that we could purchase that said 'I finished what I started,'" Kelly said. "We had a good training schedule, and Tera and I both were pretty dedicated to the training schedule, so I felt like all the components were right. We'd done all the right things, the right amount of running, strength training and paying attention to our nutrition.
"It was better than I anticipated," she added. "We reached our goal and then completed it, so it felt real good to complete it."
With the marathon goal now behind them, Cameron and Kelly are taking a little time to rest. Then they'll decide on their next physical challenge - perhaps a bike race.
"We tend to alternate between running and cycling," Kelly said. "We usually set it in January, so we'll take a month or two to kick back and then decide."