Bates, Lang honored by
KVA
Two of Lansing High's top volleyball performers this season were recognized Oct. 31 for their performance at the Class 5A state tournament.
Juniors Julia Bates and Brittney Lang both were named to the 2007 State All-Tournament Team, a 12-member squad that was selected by the Kansas Volleyball Association.
Lang was Lansing's top offensive threat during the tournament as she logged 36 kills and one ace. She also contributed numerous blocks.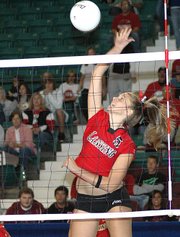 "She's just such an impact player," LHS coach Julie Slater said. "She plays hard and with such emotion, and she's very explosive with her hitting. Whe she gets a hold of one, it's a 'wow' hit. It makes you sit up and take notice."
Throughout the season Lang was flat-out dominant at times. She led the Lions with 341 kills, a .462 hitting efficiency and 99 blocks, and she was second on the team with 159 digs and 41 aces. Her 254 points this year were the third-highest single-season total in program history behind Brianne Mathews (293 in 2001) and teammate Kristen Jensen (278 this year).
"She plays the whole floor and does everything very well," Slater said.
Bates was arguably the Lions' most consistent all-around player at state as she recorded 24 kills, three aces and lots of assists.
"Julia I thought just had a great state tournament," Slater said. "She played well in all aspects of the game."
Most impressive to Slater was Bates' ability to change roles on the fly. That was necessary on the final day of state when Jensen, Lansing's regular setter, was knocked out of the tournament with a head injury. Bates switched from hitter to setter and ran the offense for the rest of the Bishop Miege match and the third-place match against Newton.
"She really came through for us running the whole show once Kristen got hurt," Slater said.
Bates was one of Lansing's top all-around performers this season. She was second on the team in assists with 311, third in aces with 40, third in blocks with 37, fourth in kills with 153 and fourth in digs with 122.
State champion St. Thomas Aquinas landed three players on the team: Seniors Leah Cullen, Sarah Lickteig and Allison Mayfield. Runner-up Bishop Miege also placed three on the team: Sophomores Kathleen Ludwig, Laura Skaggs and Kate Van Dyke. Senior Camri Zwiesler of third-place Newton made the team, as did junior Caitlyn Murray of Great Bend, senior Rachael Solis of Topeka Seaman and junior Briana Kaiser of Valley Center.
THS LANDS 3 in 4A
Kaw Valley League rival Tonganoxie placed third at state in Class 4A, and the Chieftains had three players honored as All-State Tournament selections. Seniors Sami Franiuk, Hannah Herrstrom and Tracie Hileman all were recognized for their performance. State champion Topeka Hayden had four players on the team, and runner-up St. James Academy had three.