Main St. no longer a drag
"You can cheer now."
That's the message from Ken Miller, the city's Main Street project liaison, regarding work on Main Street.
After 18 months of construction, approximately $16.8 million in total expenses from the Kansas Department of Transportation and the city and frequent headaches for many drivers, the orange cones are coming up, and all lanes on Kansas Highway 7 through the city are being opened.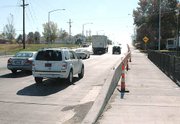 Ultimately, the project widened Main Street from Connie to Ida Streets to include a center turn lane, replaced the bridge over Seven-Mile Creek, reconstructed medians from Gilman Road to Ida Street and added a reverse frontage road north of West Mary Street to West Kansas Avenue.
According to the KDOT Web site, the undertaking's $16.8 million current cost estimate included all construction, utility relocation, inspection and right-of-way acquisition.
That cost was split 80 percent from KDOT and 20 percent from the city's coffers.
Miller said he was pleased to announce Thursday that "the project is basically complete except for some cleanup items remaining."
He said pavement markings were completed Sunday and sod and seed work would be finished this week.
Miller also added that all traffic signals on Main Street are working on detectors and that all streetlights are fully functional.
While a 90-meter chain link fence still needs to go up in front of KinderCare Learning Center at Main Street and East Mary Street, lighting under the Seven-Mile Creek still needs to be fixed and periodic lane reductions might still occur as KDOT officials conduct walkthroughs in mid-November, Miller said the majority of work is complete.
He said the city has talked about holding some sort of Main Street celebration on the afternoon of Wednesday, Nov. 28, in which local and state dignitaries will be invited to celebrate the project's completion.