Fort recognizes family sacrifices to serve Army
The commander at Fort Leavenworth took time last week to recognize "those who make tremendous sacrifices for nothing but the love of the person serving" the spouses and children of Army soldiers.
Lt. Gen. William Caldwell IV signed an Army Family Covenant Thursday, Nov. 8, at Bradley Elementary, one of three primary schools on post, to recognize the increasing sacrifices that Army families are making every day.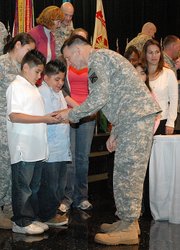 "The Army is strong today because of our families," Caldwell told the dozens of soldiers and their families gathered Thursday, " : so we want to recognize them today."
The covenant, which follows a $1.4 billion pledge from the Secretary of the Army in October to improve the quality of life for Army families, was also signed by Sgt. Maj. David Bruner, Col. Tim Weathersbee, Sgt. Maj. John Cross and a civilian aide to the Secretary of the Army, retired Lt. Gen. Robert Arter.
At Fort Leavenworth, a portion of the designated funds will ensure that childcare costs won't be raised this year and, among other things, will allow for a new playground at the fort's Child Development Center, in the fiscal year 2008.
With 75 percent of the officers at the Command and General Staff College being combat veterans, Caldwell said there have been a lot of missed birthdays, Halloweens and other holidays for his servicemen and women.
"We're figuring out what we can do to make life a little more family-oriented for them," Caldwell, the father of a six- and four-year-old, said.
Those often simple changes, which include extending the hours at Fort Leavenworth's food court and pushing back start times at the Command and General Staff College so that soldiers can "walk their kids to the bus in the morning," can have a large impact, Caldwell said.
After returning recently from a year in Iraq, Caldwell said, "I can appreciate now more than ever the sacrifices you make."
Also part of Thursday's ceremony was an open house for one of the newly constructed homes in the Fort's Cheyenne Village and a look at Bradley Elementary's newly dedicated planetarium.