Parade honors heroes of today and yesteryear
Calls of "welcome home" and "thank you" echoed through the crowd as one float in particular passed by during Monday's Leavenworth County Veterans Day parade.
The "Our Returning Heroes" float was one of more than 200 that participated in the parade Monday, which was recognized for the first time by the Veterans Day National Committee as an official Veterans Day regional site.
The "Our Returning Heroes" float made its fourth appearance in the Leavenworth parade as a way to recognize local soldiers who have returned from fighting in areas of conflict.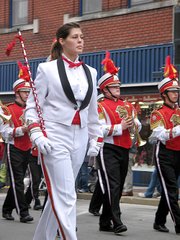 Diane Smith, secretary of the Leavenworth County Parade Committee, said the float was a way to show support to the soldiers who fought to protect citizens' rights.
"We feel we need to support them in every way possible while they're away over there protecting our rights," Smith said. "We need to support them by looking out for their families while they're gone."
Smith said the float showed the soldiers that Leavenworth County's strong military community was willing to help. She said floats that feature the heroes of today's ongoing battle in Iraq allowed people to put a local face to such a big conflict.
About 30 members of the Patriot Guard were stationed along the parade route, which snaked through downtown Leavenworth. Patriot Guard members are known for showing up at funerals of fallen soldiers, largely to shield their families from taunts by followers of Topekan Fred Phelps. Monday, the Patriot Guard members recognized both active duty and military veterans for their service throughout the parade.
John Boyer, a Vietnam veteran from Leavenworth, was one of the Patriot Guard members attending the parade. He commented about Phelps' Westboro Baptist Church losing a nearly $11 million judgment last week for picketing at a soldier's funeral on the East Coast.
"I just don't respond to Fred Phelps," Boyer said. "The reason for the Patriot Guard is to show respect for fallen soldiers. Fred Phelps just happened to get in the middle of that."
The Leavenworth County Veterans Day Parade committee calls its parade the oldest and largest of its kind in the nation.
- Lansing Current staff writer Joel Walsh contributed to this report.