Ribbon cutting welcomes home returned soldier
With one snip Maj. David Steele was officially welcomed home from a 15-month deployment to Iraq by a class of second-graders at Lansing Elementary School.
In a ceremony on Thursday, Nov. 8, a few days after returning home, Steele gathered around a tree in front of the school with his wife, two of his children and several of their classmates to cut down the yellow ribbon that was hung in support of him when he left in August 2006.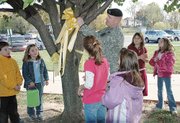 While stationed in the Diyala province of Iraq, Steele was part of a transition team embedded into the Iraq Army. His team was there to teach Iraqis how to eventually stand on their own without American support.
Since returning home, Steele said he hadn't done much but try to reconnect to his family. He and his wife, Erin, have four children: Matthew, 12, Alysabeth, 10, Emily, 7, and an adopted son from China, Caleb, 4.
During the ceremony at the elementary school, Emily's classmates gathered in a circle around the family members as they took down the ribbon that symbolized their loved one's absence. Alysabeth then presented her father with balloons and said, "Thank you for being a hero for the United States."
Later, Steele said, as tears began to well in his eyes, that he wasn't the hero. It was his fallen comrades, he said, who weren't lucky enough to come home and experience the kind of welcome he had.
Memories of his time in Iraq are still vivid in his mind as he tries to get back into his old way of life. The family moved to Lansing shortly before Steele was deployed, so he said he was looking forward to establishing roots and getting involved in the community.
What he missed most, he said, was bedtime because he enjoys that time with his children as he tucks them in and reads them a story. He said he was especially looking forward to forming a relationship with Caleb, who was adopted only a couple weeks before he left for the deployment.
This was the second deployment for Steele, who had to say goodbye to his family for the first time in January 2003. During that time the family was living in Germany, which made the situation even more difficult. Steele said he was thankful his family was in a community this time where they supported and looked after one another.
"I was very appreciative that the school would think to be involved with the kids coping with that type of thing," Steele said of Lansing Elementary's yellow ribbon campaign.
When he saw his children for the first time upon his return, Steele said his first thought was how much older each of them looked. He said he hoped his deployment was worth leaving his family and missing important moments.
There were important tasks that needed to be taken care of in Iraq, he said, and he hopes his contribution got the United States closer to those goals.
"I think time will tell," he said. "In my mind (members of the Iraq Army) have everything they need to continue securing Iraq all by themselves."
For now, Steele is just enjoying his time at home. He's already started a graduate class toward his Ph.D., in training and development leadership from North Central University. In February he will start at the Command and General Staff College at Fort Leavenworth.
After Steele's ceremony, 15 yellow ribbons remained to be cut down by students and their families of Lansing Elementary School.