Civilian defense worker ready for Thanksgiving in Iraq
Jose Marrero plans to enjoy Thanksgiving to the fullest on Thursday.
He'll have turkey and all the fixings, maybe a slice of pie, and then he'll head up to the roof with his buddies to puff on a cigar and enjoy the crisp evening air.
Thanks to a time zone difference, Marrero will begin the holiday nine hours earlier than his wife, Inge, because the 52-year-old Lansing resident is stationed at Camp Liberty in Baghdad, Iraq.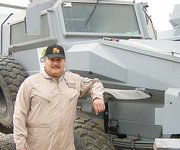 Sweet potato pie and pumpkin pie are personal favorites that remind Marrero of holidays at home. The cigar, however, is a newer tradition that is a special part of his Baghdad routine.
"We have our little cigar club on the rooftop," Marrero said during a telephone interview Monday. "We'll have a traditional Thanksgiving with the troops, then go up on the roof, smoke a cigar and enjoy the clouds and cool weather."
Behind the scenes
When most people think of the Iraq War, they envision armed soldiers fighting insurgents. That's not Marrero's Iraq.
He was honorably discharged from the Army in 1990 after 17 years of service. He and his wife were living in El Paso, Texas, when the Sept. 11, 2001, terrorist attacks happened and he decided he wanted to help his country again.
Marrero moved to Lansing and went to work at Fort Leavenworth. Then he accepted a position with the U.S. Army Corps of Engineers, Gulf Region Division, to help rebuild Iraq.
Now he's in Baghdad, albeit in a noncombat role. He works as a GS-12 civilian with the Department of Defense and is on his first deployment to Iraq. Since arriving in Baghdad about eight months ago, his work as an information technology specialist has taken him throughout the capital city and al-Anbar Province, among other places.
His primary duties are maintaining satellite communications, and performing computer maintenance and software support for the Army. In addition, he provides technical support to the Army and the U.S. Agency for International Development.
Work days are long - typically 12 to 14 hours - but he said they're fulfilling.
"We do have military people working with us constantly," he said. "They're good people; hard workers. Not much you can say about them except that they're great."
Slow and steady progress
Marrero said a lot of people in the United States don't see the progress that he sees in Iraq because the media don't report it.
"Over here there's a lot of people doing good work in reconstruction and rebuilding efforts," he said. "It's not as bad as they think it is.
"We do a lot of work and a lot is accomplished, and in the long run these people will have a better life than they did before. I just hope I can be a part of it."
Marrero said he knows progress is being made because those very improvements allow him to do his job more effectively. Transportation is the most obvious change. He said he is able to venture more into construction areas and operating bases to perform maintenance work on computer systems.
Even so, Marrero admitted the situation in Iraq is far from perfect.
"Every day's an adventure," he said. "When you get up in the morning, you thank God, and then you just go out and work. What happens isn't up to you; it's up to Him. Most of the time we drive without incidents. Other times you do."
Relaxing and reminiscing
Marrero is scheduled to return home to Lansing in mid-March at the end of a yearlong deployment.
He said he misses taking walks with Inge, going camping and fishing at Wyandotte County Lake and Smith Lake at Fort Leavenworth. He said he plans to buy two mustang horses for him and his wife when he gets back to Lansing.
He said he can handle his time away from home during the holidays, though, because he's proud of his service and believes the cause is worthy.
In the meantime, he'll reminisce about the little pleasures of home while partaking in his favorite pastime in Baghdad - puffing Monte Cristo Platinums with his buddies in the rooftop cigar club.
"It used to be a random thing I used to do every once in a while : special occasions : but over here it's a nightly occasion because it's relaxing," he said. "When we go to the rooftop and light up a cigar, all the worries go away."