Lions honored for soccer skills, scholarship
Ten Lansing High soccer players have been recognized by league, regional and state coaches for their performance both on and off the field this season.
Six Lions earned All-Kaw Valley League honors, four earned All-Region honors and two were named All-State. In addition, six were recognized for their academic success.
The stockpile of awards were a welcome sight to LHS coach Randy Brown after his team finished the season with a disappointing 7-9 record.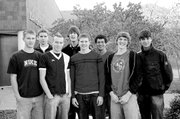 "From that standpoint (overall record) it's disappointing," Brown said. "But having this kind of thing (awards) is able to make up for some of that. When you're able to be recognized by other coaches, it shows that the other coaches were able to see that they did a lot of things well, and that gives a good indication of the season you had and you have to feel pretty good about that."
Senior forward Ben Hancock and senior defender Drew Reynolds were first-team All-KVL selections, senior midfielder Nick Stevenson and junior Clayton Hall were named to the second team, and senior forward Chance Thackston and senior goalkeeper Ethan Alexander were honorable mention selections.
In addition, Reynolds and Clayton Hall were first-team All-Central Region honorees. Hancock, Stevenson and Alexander were named to the second team.
Brown said he was happy to see other coaches take notice of Hancock's stellar season. He missed all of his junior campaign after tearing his anterior cruciate ligament in the season-opener. After working his way back into shape he became a go-to scorer for the Lions this year before suffering another knee injury in the season-finale.
"It's just good to see him able to get a good season under his belt and play very well and be recognized for it," Brown said. "That's really great."
Reynolds, Lansing's top defensive stopper, and Hall, the Lions' leading scorer, also earned first-team All-State honors.
As proud as Brown was about his players' on-the-field accomplishments, he was most pleased to see six of them honored for their academic achievements.
Senior Mo Meyer and Stevenson were All-Academic first-team selections and Alexander and seniors Ale Buogo, Niklas Wagner and Dennis Wood were All-Academic Outstanding honorees.
"It's all about athleticism and scholarship and character," Brown said. "We're trying to make sure we're building all of that, and it's good to see that (recognition) too."