Flynn seizes Division I opportunity
Nick Flynn sat through a South Dakota State wrestling signing ceremony two years ago when his big brother, Sean, inked an NCAA Division I scholarship.
This time it was his turn.
Flanked by his parents, Mike and Paula Flynn, his Lansing High teammates, Leavenworth County Spartan Wrestling Club coach Shawn Budke, LHS head coach Ron Averill and assistant Scott Terron, Flynn made his signing with SDSU official on Tuesday, Nov. 20.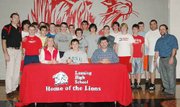 Although his brother wasn't able to be there, Flynn knows he'll be seeing him on a daily basis in the near future. In fact, that's a major reason he chose South Dakota State.
"I barely looked anywhere else," he said. "With Sean being up there, and having gone up there a few times and met all the guys and everything, it just seemed a lot easier. And it'd be nice having an older brother up there so I'll know what to do."
His brother's influence has played a major role in Flynn's wrestling career since he first stepped on the mat at age 5. Whether they were testing out a new move or battling in a live scrimmage, the intensity was constant.
"Nick looks up to his brother. Nick learns from his brother," said Mike Flynn, Nick's father and long-time club coach. "Sean's happy for his brother, but boy when they go at it :
"This summer they were training, and Nick almost took Sean down," he recalled. "It was a brawl in the wrestling room because my little brother's not going to take me down."
Flynn has improved rapidly throughout his prep career, placing sixth at state at 112 pounds as a freshman, qualifying for state at 130 pounds as a sophomore and then finishing second at 145 pounds last year.
Strength training has played a major factor in his rise to prominence, and again Sean's influence is involved.
"Sean has got the benefit of strength training from college, and he took Nick last year and taught him all that stuff," Mike Flynn said.
Although his brother has been a tremendous influence, this still is Nick Flynn's story. He's not certain he wants to follow his brother down the ROTC route, and he wants to have more free time to focus strictly on his studies and wrestling. He's considering a major in sociology and a career in teaching. As much as his roots have played a factor in his success, LHS coach Ron Averill said it ultimately boils down to Flynn's "insatiable hunger" to succeed.
"He's always seeking ways to better himself," Averill said. "He's not hesitant to explore those ways and methods on the mat. In fact, as coaches we have to be careful because if we want to show Nick something new, sometimes its not good to show it right during competition because he's going to go out and try to use it right away. He's always been like a sponge."
Flynn is a three-time state qualifier, a two-time medalist and he owns a 105-23 high school record entering his senior campaign. The last major feat missing from his resume is a state title. He said having his college selection out of the way should make it easier to focus on that goal.
"This takes so much stress off me and I think I'll wrestle so much better knowing that I have college taken care of," he said. "Hopefully it'll help me to win that state championship that I'm looking for."