Fundraising brings out teachers' best
Two Lansing school officials put their pride aside for a day last week to reward the students of their respective schools.
Dan Wessel, LHS assistant principal, wore a turkey suit all day on Tuesday, Nov. 20 as a funny reward for students' fundraising efforts.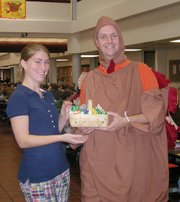 The Lansing Kayettes sponsored a fundraiser for a 2006 LHS graduate who recently lost everything in a house fire. They were able to raise over $300 from student donations and proceeds from selling hot chocolate.
Over at Lansing Intermediate School, students got to see their principal Jan Jorgensen dress up in a sweatshirt of her rival university, Kansas State University.
LIS was the school to raise the most money, which was calculated by the number of students in each school in the Pennies for Playgrounds fundraiser. Students there raised $734.35, which came out to about $2.30 per student.
Lansing Elementary School raised $1,199.99; Lansing Middle School raised $557.92; and Lansing High School raised $726.11.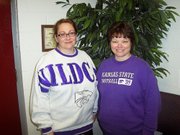 The total amount earned in the campaign to enhance playground equipment at the new elementary school was $3,218.37.