KVL

title is up for grabs
Now that Tonganoxie standout Ali Pistora is off to college, the race for the Kaw Valley League girls basketball title is up for grabs.
That's a big deal for a number of KVL programs, including Lansing High and Basehor-Linwood. Two of the league's top programs during recent years, LHS and Basehor both have struggled to surpass Tonganoxie.
With a roster loaded with speed and experience, Lansing hopes this is its year to shine.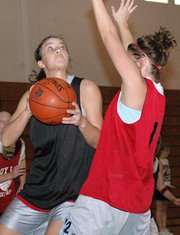 "We bring a lot of intensity to practice, and if we keep people healthy and keep running like we are, I really think we have a good bet at it,' senior Katie Nietzke said. "The league is pretty up for grabs for everybody."
Fourth-year LHS coach Keith Andrews agreed, but he elaborated even further about just how wide-open the race is.
"I would say right now Basehor's going to be the class of the league because they've got everybody back from an experienced team, and they played well this summer," he said. "Tongie will be tough because they're still Tongie. We should be up there.
"Piper had a couple move-ins, and I think they'll be improved with a new coach," he added. "I think Perry will be improved. Mill Valley lost some people, but they still have some athletes. It's going to be a competitive league."
If the Lions want to build significantly off of last year's 9-12 record and win a KVL crown, they'll need to get off to a fast start. That's something that hasn't happened during the past three seasons. All three of those seasons began with the Metro Prep Tip-off Classic Tournament at Bonner Springs. All three times LHS opened with one of the top seeds and struggled to find a rhythm.
This year they have a league game first - a 7 p.m. Friday contest against Bonner Springs at the Bonner Springs YMCA - before the tournament. They also have league contests with Basehor and Tonganoxie before winter break. That early stretch will be crucial to the league title hopes for the Lions, Bobcats and Chieftains alike.
"It's going to be one of those leagues where there are no gimmies," Andrews said. "You've got to play and get what you can when you can."
Basehor will be the KVL's most experienced team with all five starters back, but Lansing will be close behind with four starters - Nietzke, junior Brittney Lang, and seniors Amanda Darrow and Christine Cordes returning. Also back are senior Morgan Chiles, junior Alexis Ellis and sophomores Amy Briggs, Abbey Lozenski and Katelyn Griffen, as well as newcomer Retha Ciopra, a senior.
"I think with the experience we have, everyone basically knows what they're doing, and I think that's going to help us a lot," Darrow said. "I think all of us have great skills, so that's going to make us huge this year."
LHS returns its top six scorers from last year, including Nietzke's team-high 12.2 points per game, Lang's 9.7 average and Briggs' 6.3 average. Although the top scorers were guards a year ago, the Lions are looking for more balance this season. That likely will come from Cordes, who averaged four points per game a year ago, and Ellis, the team's most improved player.
After making a greater commitment to basketball during the summer, Ellis' performance during practice has earned rave reviews from her coach and teammates alike.
"We talked with her the other day about it, that she can do as much as she wants to do," Andrews said. "She understands that she can do some things nobody else can, and we understand that we can get her the ball in those positions to (be effective).
"I could see her just turn the league upside down because of all the posts that graduated and who's left."
The biggest question for Lansing this season might not be how it will stack up in the KVL, but rather can it finally advance to the Class 5A state tournament for the first time? LHS lost in the substate finals two years ago and fell in the first round last season. After making the trip to the Kansas Expocentre for state with the volleyball team this fall, Nietzke said she hopes to return to that same venue in March with her basketball teammates.
"Oh God, I hope so," she said with a grin. "That was so much fun. I miss volleyball so much just because of that. It was the best experience of my life; it was so much fun.
"I keep thinking about that day when Rachel (Darrow) and Raddy (Amanda Radovich) were here and we lost to Shawnee Heights (in the substate finals in 2006). Oh man, I want that back so bad. I want to be there again. But we haven't even started our first game yet, so we'll take it day by day."