As the chairman of the Veterans of Foreign Wars' Western Conference, a past Kansas state VFW commander and a committed member of Lansing VFW Post 12003, Charley Shoemaker said he's happy to be actively involved in an organization that is "veterans helping veterans."
For 41 years, Shoemaker has been a member of the VFW, first in Leavenworth and, more recently, in Lansing.
He climbed the ranks as a local post commander before moving on to the state level in 1993 and 1994. Now, as the Western Conference chairman, Shoemaker has represented VFW posts in 16 states as well as in Latin America and the Caribbean during conferences like the one he just returned from in Reno, Nev., earlier this month.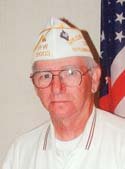 Locally, Shoemaker has served as executive chairman of the Leavenworth Veterans Day Parade committee since 1966, and he founded and chairs the Leavenworth County Law Enforcement Awards Committee, which presents an annual award to local officers in each department in the county to recognize their service.
Shoemaker said the Lansing post's main focus right now has been planning a veterans' memorial near Lansing City Hall, but, as always, it is also involved generally in raising veterans' awareness of their rights and benefits following service.
Shoemaker's own service in the U.S. Army began when he enlisted four days after graduating from Leavenworth High School in 1964. Shoemaker went through basic training at Fort Leonard Wood before leaving for Vietnam, where he worked as a cable splicer for the Army's Signal Corps.
Like many others, Shoemaker settled back in Leavenworth, where he began volunteering for various veterans and civic organizations, just as his father, a military man and lifelong member of VFW, had done before him.
Shoemaker said with Fort Leavenworth and the Veterans Affairs offices, Leavenworth County is "one of the most unique places for veterans."
"Leavenworth County is a veteran's county, just like Leavenworth and Lansing are veterans' cities," he said. " : Here in this town, Veterans Day is every day."
NAME: Charley Shoemaker
ADDRESS: 607 E. Eisenhower Rd.
OCCUPATION: HVAC technician for Veterans Affairs
FAMILY: Bobbie, wife; J.R., son; Chris, son; Patrick, son; Michael, son; Lillian, granddaughter
HOW LONG HAVE YOU LIVED IN LANSING, AND WHAT BROUGHT YOU HERE? "I lived in Leavenworth as a kid, moved back about 40 years ago, moved here from Leavenworth (three years ago) and I've been here ever since."
WHAT DO YOU LIKE MOST ABOUT LANSING? "I know everybody to begin with. It's a small town and most of the time, they're more courteous here than in a big city."
WHAT DO YOU DO FOR FUN? "When I get a chance, I like to fish : and I like to go outside and garden."
WHAT IS THE BEST ADVICE YOU'VE EVER RECEIVED? "Work hard and you can get ahead."
WHAT CLUBS OR ORGANIZATIONS DO YOU BELONG TO? Veterans of Foreign Wars, Disabled American Veterans and The American Legion