Year 2 breakthrough?
LHS

boys plan to contend for Kaw Valley League title
Patience was a virtue for the Lansing High boys basketball team during year one of the Rod Briggs era.
Briggs, the LHS coach, inherited a program that returned zero starters and only one player with significant varsity experience. That meant the program had to take baby steps - including a slow, somewhat conservative offense - during an 8-13 campaign.
Now in year two, Briggs is ready to turn the Lions loose.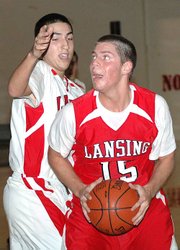 Gone, he hopes, are the days of point production in the 30s and 40s. Lansing scored 50 or more points just four times last season including a season-high 56 in a victory over Immaculata.
Briggs wants the 2007-2008 Lions to be up-tempo as much as possible, and he thinks he has the players to make it happen.
"We want to go faster, and we want to be able to make plays in transition and get easier baskets," he said. "Last year we didn't get many transition baskets, and a lot of that is we just weren't very fast. I think we've got a little more quickness this year overall, and also knowing a little more of what we're doing will help."
Briggs and assistant coach Ben Doll are installing more variety into the offense this season. They can do that because they have a veteran squad returning that already knows the basics. The only losses from last year were leading scorer Jeff Jackson, a 2007 LHS graduate, and senior Will Johnson who opted not to play. Six of the top seven scorers are back, including starting guards Curtis Beall (8.1 points per game) and Clayton Hall (6.8 p.p.g.).
Last year LHS frequently settled for three-pointers from Beall and Hall. Both will be relied on for their sharp-shooting skills again this season - as will sophomore Brian Beall - but this year they should have a lot more help on the inside.
"That's the strength of our team," Briggs said. "Our game has to go through our big guys."
The Lions will make a point to utilize their forwards this season. Senior Stephen Didde (6-foot-5) is an aggressive rebounder and junior Cody Rush (6-foot-7) is an active big man with a soft touch. Junior Ryan Delich (6-foot-4) and senior P.J. Sigle (6-foot-2) will provide additional depth in the post.
Complimenting the inside play will be perimeter slashers Kevin Johnson, Bobby Hauver and Chris Hill and possibly sophomore Richie O'Donnell.
With so many scoring threats this season, it's easy to forget about defense. The Lions haven't, however.
"It feels like our offense is coming a lot easier already this year, but we need to lock down and play a little better defense," Didde said.
Defensively, the Lions held opponents to fewer than 50 points in 12 games last year and only four opponents scored 60 or more points against them.
With an improved offense and a strong defense returning, the Lions expect to improve on last year's sixth-place finish in the Kaw Valley League. In fact, they have their sights set on replacing Basehor-Linwood atop the standings.
"We have a lot of confidence coming in," Didde admitted. "I think we're going to do real good this year, and I think we'll win the league. If we play hard and do what we've got to do and play disciplined defense, we'll do all right."