Race bolsters friendship's strength
What started as a casual friendship between two parents of young boys has grown over the past 15 years. Now, Vickie Kelly and Tera Cameron have found a passion in each other for wellness that only increases in intensity as the years progress.
For the past five months, Kelly and Cameron have been training for the next great challenge in their lives: the New York City Marathon.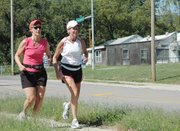 "We've come a long way since walking the neighborhood," Kelly said.
Each year, the two Lansing residents pick a new goal to take on. Together the two friends work together through support and encouragement, pushing toward an accomplishment that feeds them not only physically but also mentally and emotionally.
This year's goal of the New York City Marathon has been a dream of both women for quite some time.
For Kelly, the marathon's 26.2 miles that winds through the different boroughs of one of her favorite cities has always been appealing. But she and Cameron both said the New York City Marathon brings with it a little something extra.
Cameron said the marathon was such a famous and exciting event that just entering gives a person an extra sense of pride.
"Someday I'd like to tell my grandchildren 'I ran the New York Marathon,'" she said.
This will be the second year Cameron and Kelly attempted to enter the marathon. Last year both women applied but through the lottery sorting process, only Cameron was chosen. Because their challenge was a partnership, Cameron decided to defer her entry until Kelly's name was also chosen.
Their time has come, and on Nov. 4 the two can finally take their place among 35,000 other runners for what Kelly described as a legend among all other marathons.
To get to this point, however, the women set up a strict training plan that would allow them to be completely prepared for the run but while avoiding any injuries.
For 24 weeks, Kelly and Cameron have committed to a cross-training plan that keeps them running three times a week for three weeks and then taking one week off. That week off allows their bodies to recover Kelly said.
A few years ago, Kelly and Cameron trained for the St. Louis Marathon and all they did was run all the time. Kelly sustained an injury because of that training method that forced her to drop out of the race and for Cameron to go on without her.
This year is different, and the two women did a lot of research online before picking a plan they felt was best for them. Every time they run it has a purpose Cameron said, whether it is sprints, tempo or long distance. Despite their days off from running, Cameron and Kelly never take a day off from exercise, which could include activities such as cycling or yoga.
Kelly said the training itself was a great accomplishment. She said getting up early or running in extreme heat takes sheer determination and mental toughness that both she and Cameron agreed couldn't be done without the strength they get from each other.
"One day one of us might be having a bad day," Cameron said. "But we pick each other up when we're down and keep going."
As their involvement with physical activities grew, the partnership between them grew stronger. Kelly said Cameron is an excellent partner because they both get extremely committed and dedicated to a goal.
"To have someone like that just really makes the whole process better," Kelly said.
Cameron agreed that when you work with someone with similar goals of wellness and health great things can be done.
For Cameron, turning 40 kicked off her passion to challenge herself physically and mentally. She said she wanted to grow old gracefully and stay active for as long as possible.
What Cameron loves most about running is that she can take running shoes everywhere she goes. Just last week, Cameron found herself running at the base of Vail Mountain and around Lake Estes in Colorado.
Running can be such an adventure she said, recalling coming face to face with a giant elk while on a trail by the lake. While the elk may have won the stare down and forced Cameron to turn back, she said being able to see things you wouldn't normally see in a car is what keeps her motivated.
Since a young age, Kelly said she's always felt a sense of fulfillment from being fit. It wasn't until she became a stay-at-home mom for her three children, however, that she really started to find an interest in serious physical activities.
"I needed something to do so I didn't go crazy," Kelly said as she joked about why she started running.
Since then, her and Cameron have accomplished several goals that includes entering many half-marathons, competing in triathlons and biking across Kansas.
"People say you can't do things, but you can if you work at it and try and practice," Kelly said.
In January Kelly and Cameron will sit down once more and decide what next year's big goal will be and the process will start over again.
"I imagine it will involve two wheels this time for a fun change of pace," Cameron said.
While the two have several more goals to undertake in their future, they can't forget where they came from as two women, walking their Lansing neighborhood, just looking for a little fitness in their lives.