Lions complete undefeated league run with victories against
SFT

, Bonner
Carbondale — The road to the Kaw Valley League volleyball title concluded in the house of the defending champs from Santa Fe Trail, and for a little while Tuesday night the Chargers made it clear they didn't want to relinquish their throne.
It didn't matter.
Lansing withstood a late run in game one and then shrugged off a deficit midway through game two to claim a 25-19, 25-16 victory over Trail and secure a piece of the championship. About 45 minutes later the Lions locked up the whole thing by routing Bonner Springs, 25-7, 25-8.
Photo Gallery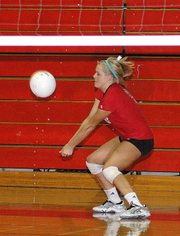 LHS volleyball tops SFT, Bonner Springs
"This is an important one," Slater said of her team meeting its goal of winning the league. "We like being league champs, and to be undefeated is even better."
After clinging to a 6-5 lead early in game one against Trail, Lansing used kills by Lisa Angello and Sara Logan to create a cushion. A handful of Charger hitting errors aided the Lions' cause as they built an 18-10 advantage. The Chargers made a late rally to pull within five points, but a kill by Julia Bates ended the game.
A pair of Logan kills, an Angello ace and a combo-block by Brittney Lang and Kristen Jensen gave LHS a 4-0 lead in game two, but SFT roared back and built an 11-9 lead. That changed quickly as a solo block and two more aces from Angello sparked an 8-0 Lion run. From there the game was never in doubt.
Lang led Lansing with nine kills in the match, and Angello, Logan and Rachel Milnark had five apiece.
"I was never really comfortable in that match," Slater said. "(Santa Fe) is a pretty good team, and they made a lot of unforced errors. Those kind of games you can't ever get comfortable, because if they don't make those mistakes it's game on."
The Bonner match never was in doubt as LHS opened game one with a 9-1 run and then started game two with a 13-0 explosion. The Lions again had a balanced offensive attack in the victory as Lang had eight kills, Angello and Logan had five apiece and Bates added four. Defensively, Milnark had seven digs and Jensen had six.
Now 30-1 and ranked No. 4 in the state in Class 5A, Lansing returns to the court at 5:30 p.m. today when it travels to St. James Academy to play Maranatha and Class 4A No. 1-ranked St. James (33-0).
"We are looking so forward to that," Slater said of playing St. James. "Hopefully it'll be a great match and it'll live up to the billing. Somebody's going to come out on top and the other one won't, but hopefully it'll just be a great match and help prepare us for substate."