Play brings grins, funds to church
A musical comedy that will support the building fund at St. Francis de Sales Catholic Church hits the stage Friday.
The play, "Nunsense," which runs Oct. 12-14 and 19-21 at Immaculata High School, 600 Shawnee, Leavenworth, tells the story of the Little Sisters of Hoboken convent, where 52 nuns meet their final reward after eating poisonous soup.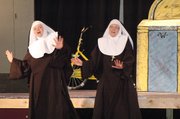 The convent only has enough money to bury 48 of the fallen sisters, so a benefit is held to raise the funds to bury the remaining four, who are temporarily stored in the freezer. The nuns' talent show showcases their singing and dancing abilities.
The show, which producer Gena Hofer described as audience friendly, was written by Dan Goggin in 1985 and is the longest running off-Broadway performance after "The Fantastics."
Starring in the production are Trish Gleisberg, Linda Finch, Larissa Klinger, Melissa Rohrer and Lexie Hofer. All the actresses in the play are volunteers.
Joshua Shockey directed the play, which will be his 48th show to act in or direct.
Choreography is by Jill Hochman and Hilary Brown of Miller Marley Studios in Overland Park.
Sister Peg Johnson, of the Sisters of Charity of Leavenworth, and Joan Leonard, the musical director for St. Francis de Sales, will provide music for the show. There will also be a special musical performance by St. Francis parishioner Michael Quinn, age 12.
All proceeds will aid St. Francis, as it prepares to start construction for a new church at 900 Ida St.
"I was really, pretty excited about (the play)," St. Francis Pastor Mike Stubbs said. "It's a different approach as a fundraiser."
The production can be seen at 8 p.m. Fridays and Saturdays and 2 p.m. Sundays. Tickets cost $8 and can be purchased at the Immaculata box office up to one hour prior to the performance, or call (913) 351-3199 for tickets in advance.