Putting 'family' in family practice
Family is a key word when it comes to one of Lansing's newest physicians, not only in the office but at home.
For Dr. Jessica Yoakam, family is all in days work.
Yoakam recently joined the medical community of St. Luke's Medical Group, and she said she hoped to bring an inviting practice that entire families will want to grow up with over the years.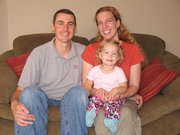 Not only is family what brought Yoakam here; it's what she said will make her stay.
As a new mother, Yoakam wanted to finally settle down and give her 21-month-old daughter, Ainsley, a place to grow up close to grandparents. Because her husband, Josh, grew up in Lansing, the Yoakam clan had several relatives to give them a tie to the area.
After attending medical school at the University of Kansas, completing her residency in Des Moines, Iowa, at Mercy-Mayo Family Medical Center and then a fellowship in women's health at University Hospital in Cleveland, Yoakam said it was nice to have a place to call home.
She said her family has settled into their neighborhood nicely and is excited about all the friends that she, Josh and Ainsley will meet.
Yoakam said the transition into her new job is going smoothly. Already, she's brought in toys for the waiting room of the office she shares with Dr. Samuel Dandar to make the practice more inviting for children and families.
Yoakam said her focus mostly would be on women and children's health. But she added that when you see the mom and the kids, the father is not usually far behind. Such variety is what keeps her excited about work.
"I like going through the day never knowing what I'm going to see next or who the next patient will be," she said.
For as long as she can remember, Yoakam said she always knew she'd be a doctor. But with motherhood, she said she's found herself understanding a different side of medicine. Through extra advice or tricks that worked for her, she said she hopes to give guidance to her patients and make them feel like she can relate to their issues.
For example, Yoakam said many of her patients have been excited so far to hear she is supportive of stay-at-home parents. In Yoakam's family, it is Josh who stays home with their daughter.
At first, Yoakam and her husband had picked out a day care for Ainsley to attend because Yoakam was still in training and Josh was working as an epidemiologist, someone who works with disease outbreak investigation. With Josh's degree in public health and the fact that their daughter was born in the winter, neither parent felt comfortable sending Ainsley to day care.
It wasn't a hard decision, however. Josh said within days he gave his resignation and hasn't looked back, cherishing the time he has to give his daughter the upbringing him and Yoakam always hoped for.
Josh said that during the day Ainsley is stuck to his side like glue, but at 5 p.m. a switch flips when Yoakam comes home from work. That's when Ainsley shows her mom just how great having the home and family to come back to can be.