KVL

Queens!
Youth-laden
LHS

girls race to league championship; Craig wins boys individual title
Perry — Lauren Jaqua found little reason to celebrate Thursday after finishing as the runner-up for the second straight year at the Kaw Valley League championships at Lake Perry.
"Not much of a change from last year," she said, sounding a bit downtrodden.
Photo Gallery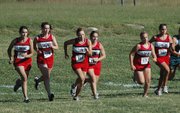 KVL cross country championships 2007
Then she got the news.
"Did we win?" the sophomore asked, skimming the list of team scores. "Awesome!"
Problem solved. The dose of good news - that the Lansing High girls finished as league champions for the first time since 2003 - was just the prescription necessary to make Jaqua smile.
"That's really good!" she said. "I'm so proud of our team."
It took a total team effort to make the championship possible. Competing without varsity regular Abbey Lozenski who missed her third straight meet with an ankle injury, the Lions looked to other runners to step up.
Jaqua covered the four-kilometer course in 16:24 and trailed only Perry-Lecompton sophomore Katie Hirsh, whose time of 16:09 was good for first place. The LHS supporting cast was equally stellar, however. Sophomore Sarah Nielsen was fourth in 16:40; sophomore Melanie Pilkington finished seventh in 16:58; sophomore Julia Winkler placed 13th in 17:25; freshman Cassie Roberts was 24th in 18:24; sophomore Kate Meara was 25th in 18:24; and sophomore Katherine Borderud was 42nd in 19:42.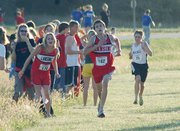 Lansing won the team title with 48 points, Mill Valley was second with 58 and Tonganoxie finished third with 66. Defending champion Basehor-Linwood placed fourth with 109.
The LHS boys finished fifth as a team while Bonner Springs defended its title with 43 points. The Lions did boast the overall boys champion, however. Sophomore Brandon Craig moved from third to first place in the final half-mile and pulled away from Bishop Ward's Jacob McMillian down the home stretch to win the league championship in a career-best time of 16:38 in the five-kilometer race.
"I heard someone yell that there was a half-mile left, and I just decided to start pushing harder," Craig said of his strong finish.
Also competing for Lansing were senior Griffin Davis (23rd, 18:29), freshman Pete LaMoe (27th, 18:37), senior Jim Mayes (29th, 18:38), junior Greg Bremser (30th, 18:39), junior Ezra Carpenter (38th, 19:22) and junior Grant Hinckley (40th, 19:26).
For a full recap of the KVL cross country meet, pick up the Oct. 18 edition of The Current.