Craig charges late, wins championship
Perry — As he emerged from the woods in third place a half-mile from the finish line on Thursday at the Kaw Valley League championships, Brandon Craig knew what he had to do.
The Lansing High sophomore kicked his pace into another gear, bolted past Brooks Ballou of Bonner Springs and Jacob McMillian of Bishop Ward, dug in and pulled away down the home stretch. In the process, Craig became the KVL champion by winning the five-kilometer race in 16:38 at Lake Perry.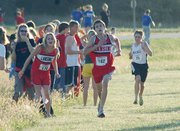 The time was a personal best by more than 20 seconds, and Craig looked as strong as ever. The reason, 39th-year LHS coach Errol Logue said, was twofold.
First, Logue pointed to Craig's performance two weeks ago at the Rim Rock Farm Invitational. Craig placed fourth on arguably the most difficult course in the state, but he also pushed his limits like never before and found himself on a table in the medical tent.
"When you empty the tank like he did, one of two things is going to happen," Logue said. "He's going to say, 'I never want to do that again,' or he's going to move to a new level. He's moved to a new level."
Second, Logue pointed to the attention-to-detail coaching of LHS assistant Melanie King, a former All-American runner at Pittsburg State.
"He ought to buy Melanie a dozen roses, because she's made him what he is," Logue said. "She's worked with him since he was a freshman, and the progress and all that : she's the one that deserves the credit. You talk about coaching making a difference, and that's where it does."
King talked to Craig about starting fast and getting to the front before the course narrowed in the woods and made passing impossible. Craig did just that. He matched McMillian and Ballou stride for stride during the first two miles and put himself in position to win the race.
"I knew those two were going to be the top ones, so I just had to stay close to them," Craig said.
Nipping at their heels in the woods, Craig knew he had to make a move after leaving the woods. A quick surge did the trick, and he showed his strength on the home stretch as he opened up a 15-meter lead before crossing the finish line six seconds ahead of McMillian.
"I was feeling pretty good," Craig said with a grin. "I didn't collapse like Rim Rock."
The LHS boys finished fifth as a team with 106 points. Bonner Springs defended its title by winning with 43 points.
Also competing for Lansing were senior Griffin Davis (23rd, 18:29), freshman Pete LaMoe (27th, 18:37), senior Jim Mayes (29th, 18:38), junior Greg Bremser (30th, 18:39), junior Ezra Carpenter (38th, 19:22) and junior Grant Hinckley (40th, 19:26).