Lansing soccer shuts out Perry
A rain-soaked field made for some squishy footing, but the Lansing High soccer team handled it to perfection Monday night in a 4-0 victory over Perry-Lecompton at Lansing Middle School.
The Lions (7-8) now have won four of their last five games and have plenty at stake when they close out the regular season at 6 p.m. today at Bishop Ward.
In addition to trying to reach the .500 mark for the year, a win would strengthen their case to have home field advantage in the first round of the regional playoffs next week. Most importantly, however, it would keep the momentum going that they've built during the past three weeks.
All of that will be determined at 9:30 a.m. Saturday at the regional seeding meeting. But first things first :
"We've got to play Thursday, and we've got to take care of business on Thursday," LHS coach Randy Brown said. "We can't look past that game. I would think we're expected to win that game, so we'd better be prepared to win and play hard."
The Lions played hard against Perry (9-7), and they scored four crafty goals. The first came in the sixth minute when Clayton Hall fired a cross to Chance Thackston a few feet from the goal. Thackston one-touched it past the keeper for a 1-0 lead. The next two goals came in the final four minutes of the half. First, Phillip Nelson shook a defender, kept his footing in the mud and fired a shot just inside the far post from 20 yards out. Two minutes later Ben Hancock found Thackston at the back post for an easy finish.
Niklas Wagner scored the lone second-half goal when he received a pass from Nelson and buried it from point-blank range.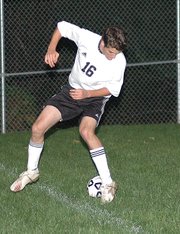 Ethan Alexander made seven saves in the victory.
Lansing lost to Piper, 3-2, on Thursday, Oct. 11. Hall scored both LHS goals.