Regional cross country at a glance
The Lansing High girls cross country team's season-long quest to qualify for state will become a reality at 10 a.m. Saturday if all goes according to plan.
Fresh off of winning the Kaw Valley League championship, the Lions are ready to face their toughest competition of the season at regionals. Among the teams in attendance will be defending state champion and current No. 1-ranked St. Thomas Aquinas, as well as Bishop Miege and Mill Valley. Aquinas is expected to be the runaway favorite to win the meet as it boasts six of the top eight fastest runners entering the meet. Miege also will be tough. The Stags' top runners - Etagegn O'Neill and Mollee Hercules - are among the meet's four fastest entrants.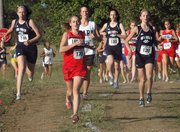 On paper, Lansing should be the No. 3 team in the region and Mill Valley should be No. 4. The top four teams qualify for state.
Lansing's Lauren Jaqua, a back-to-back Kaw Valley League runner-up, enters the meet with the 11th fastest time overall, and teammate Sarah Nielsen has the 13th fastest time.
While the Lansing girls look like a sure thing to qualify for state, the LHS boys will have a tougher road. They project to be the No. 5 team in the field. The No. 4 team, Mill Valley, finished just three points ahead of Lansing at the KVL championships, however, so one runner easily could decide which team lands the final state berth.
The top three boys teams are defending state champion and current No. 2-ranked St. Thomas Aquinas, KVL champion Bonner Springs and Bishop Miege.
Lansing's Brandon Craig, fresh off of winning a Kaw Valley League title last week, is one of the favorites to be the regional champion. Craig's league-winning time of 16:38 is one second faster than Aquinas' P.J. Greer's East Kansas League-winning time of 16:39.
News to know
What: Class 5A Regional Cross Country
Where: Wyandotte County Park
When: 10 a.m. Saturday (Girls race at 10 a.m.; Boys race at 10:30 a.m.)
Teams: Lansing, St. Thomas Aquinas, Bishop Miege, Mill Valley, Bonner Springs, Harmon, Schlagle, Sumner Academy, Turner, Washington, Wyandotte
State information: The top four teams qualify for state. In addition, the top 15 individual runners qualify, with the possibility of additional qualifiers.