Upon entering La Mesa Mexican Restaurant at 710 N. Main St., customers are met by deep red, brilliant yellow and radiant orange adornments and usually are greeted by the equally bright, smiling face of Ruben Melgoza Jr.
Melgoza, a manager at La Mesa, said he enjoys working at Lansing's only Mexican establishment, although, as at any restaurant, it can be difficult at times.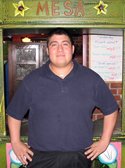 "You have to be friendly to everyone, no matter how you're feeling," Melgoza said. "With the understanding you can't make all people happy : the important thing is you try."
Melgoza came to Lansing six years ago from Degollado, a small town in Jalisco, Mexico.
He struggled at first to learn the language and to adjust to a new environment in the States.
"When you're coming to a different country and don't know many people, you're kind of scared not knowing what will happen," Melgoza said. "But I think the people in Lansing have helped a lot. I don't see any difference between us, (and) I think they see me like a regular community member."
Melgoza briefly attended Lansing High School before starting work in La Mesa's kitchen as a dishwasher.
As he slowly adjusted, Melgoza became a busboy, was given an opportunity to wait tables, and now he's a manager.
Melgoza's father, Ruben Sr., also works as a chef at the restaurant. The two share an apartment nearby.
The younger Melgoza said he plans to return to Mexico as soon as next year to revisit the town he grew up in, to see friends, his mother and sisters but eventually would like to return to the United States.
"I don't see my future in Mexico, because it's very hard work to make it," Melgoza said, pointing to differences in pay, job opportunities and governmental support.
"I personally think there are more opportunities (here), so you can have a better life than in Mexico," he said.
NAME: Ruben Melgoza Jr.
ADDRESS: 804 N Main St., Apt. 2A
OCCUPATION: Restaurant Manager, La Mesa
HOW LONG HAVE YOU LIVED IN LANSING, AND WHAT BROUGHT YOU HERE? "I've been here like six years. When I first started, I was supposed to come for school, but coming by yourself I finished with high school and had to work to survive and make life a little better."
WHAT DO YOU LIKE MOST ABOUT LANSING? "I like the people. Everyone's friendly, and the town is quiet. It's a good place to live."
WHAT DO YOU DO FOR FUN? "I don't have a lot of free time, but when I do, I like to go to Overland Park. I have family there an uncle and we like to eat out, you know, go shopping, see a movie or something like that."
WHAT MIGHT SURPRISE PEOPLE ABOUT YOU? "Customers might be surprised that I like to play soccer a lot."
WHAT IS THE BEST ADVICE YOU HAVE EVER RECEIVED? "I always try to see what I'm doing wrong to fix it and get better."