Lansing grabs district lead with 40-13 rout of Washington
Offense piles up 497 yards in victory while defense holds Wildcats to 153
Kansas City, Kan. — It was another glitzy night in the stats column for the Lansing High football team's defense, but this time the offense joined the act in a major way.
LHS piled up 497 yards of offense and limited Kansas City-Washington to just 153 yards as the Lions rolled to a 40-13 victory Friday night at H.D. Neill Stadium.
Photo Gallery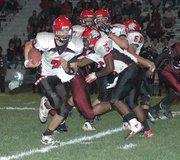 Lansing 40, Washington 13
Lansing improves to 7-1 overall and 2-0 in Class 5A district 1 play. Washington falls to 5-3 and 0-2 in the district. In other district action, Shawnee Heights (5-3, 1-1) routed KC-Schlagle, 49-7. A Lansing victory over Schlagle (4-4, 1-1) at 7 p.m. Friday, Oct. 26, would give the Lions their third district title in four years and their first in 5A.
"We'd like to win the district this year and be the district champion," LHS coach Bill Pekarek said.
For the most part against Washington Pekarek's club looked like the team to beat in the district. It took the opening drive of the game 71 yards in nine plays - all on the ground - and scored on a one-yard dive by Chris Hill. Matt Robbins' extra point made it 7-0 just four minutes into the game.
Then came the defense. Becker collected his team-leading seventh sack of the season when he hauled down Washington quarterback Joshua White for a five-yard loss on the Wildcats' first play. Three downs later they were forced to punt.
"The defense : we've always been good," Becker said. "We always give our best on every play. The corners, safeties, linemen, secondary : everybody. Everybody's always in the right place and giving it their all."
Lansing's next two drives stalled out just shy of the endzone; one on a fumble at the 10-yard line and the other on fourth-and-short. Still, the defense stayed tough. It didn't allow a first down until being whistled for roughing the kicker late in the first half. Then Washington running back Antonio Johnson scooped up a fumbled pitch and turned the big loss into a 26-yard gain. White drilled D'leon McCord for a 37-yard completion on the next play, and Duone Maxwell scooted three yards into the endzone to pull the Wildcats within 7-6 with 2:23 left in the half.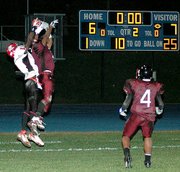 Lansing managed the final minutes successfully while fitting in eight plays. The final play, however, was both controversial and effective. It was controversial in that it never should have happened, but an inadvertent official's whistle was blown after Stephen Didde's three-yard reception.
"One guy said he thought the ball hit the ground, so he blew the whistle," Pekarek said. "The other guy said, 'No, he caught the ball.' So then it's an inadvertent whistle, so you get another play.
"That was a break for us."
Boy was it ever.
With no time on the clock, the Lions' final play unfolded when quarterback Bobby Hauver lofted a pass to wide receiver Kevin Johnson who was streaking down the left sideline. Johnson sprinted to the back of the endzone, leaped and - while heavily covered - hauled in the pass for a late score. Robbins' kick put LHS ahead 14-6 at intermission.
If Johnson's touchdown was the shot in the arm the Lions needed, then Becker's fumble recovery on the first play of the third quarter was band-aid that made everything right again. Washington ran an option play to the left, but a bad pitch sent the ball to the grass and Becker pounced on it at the 20-yard line. Four plays later Hill scored on a one-yard run and put the Lions ahead 20-6.
"That (fumble recovery) set up a touchdown," Pekarek said. "We got that touchdown, and it just kind of started setting the tempo."
The LHS defense forced another punt, and a 14-yard return by Cody Morlan gave the Lions a short field at the 38-yard line. Seven plays later Hauver scored on a nine-yard run and extended the lead to 27-6.
A pass deflection by Becker and a sack by Brenton Smith on Washington's next possession led to another punt, and Lansing gradually put the game away from there. Hill added another six-yard score and Smith had a 10-yard touchdown run. Washington added a fourth-quarter touchdown when White connected with Isaac Wright for a 26-yard score.
By the end of the night the Lions had compiled their second-highest offensive output of the season, and they did it with a smattering of contributors. Hauver rushed for a team-high 117 yards on 16 carries; Hill had 75 yards on 14 carries; Brad Terron rushed for 61 yards on 15 carries; Hauver completed 13 of 16 passes for 167 yards; Johnson caught seven passes for 106 yards; Justin Smith had two catches for 33 yards.
Defensively, it was another bit night, and Becker was the centerpiece with a sack, a fumble recovery, a pass deflection and four tackles.
"I'll tell you what, Becker had a heck of a game tonight as a defensive end," Pekarek said. "He put a lot of pressure on their quarterback."
So did a lot of other guys. Brenton Smith had two sacks and five tackles, David Dickson had a team-high eight tackles and Justin Smith made six stops.
STATISTICALLY SPEAKING
- David Dickson's eight tackles were just a typical night in the life of Lansing's leading tackler. He now has a team-high 73 stops this season. Teammate Brad Terron has 69 tackles and Justin Smith has 64.
- Brendan Becker leads the Lions with seven sacks this season, and Brenton Smith has three.
- Lansing has balance in the backfield. Chris Hill leads LHS with 693 yards, Terron has 506, Bobby Hauver has 301 and Brenton Smith has 196.
- Hauver has completed 50 of 105 passes for 887 yards and 10 touchdowns this season.
- Kevin Johnson has been on the receiving end of a lot of Hauver passes. Johnson has 20 catches for 338 yards and five touchdowns. Justin Smith has nine catches for 251 yards and two scores.