LHS

girls state-bound after third-place finish at regionals
Craig, Davis, LaMoe will represent Lansing boys at Rim Rock
Kansas City, Kan. — Abbey Lozenski and Lauren Jaqua are headed back to the state cross country meet, and this time the Lansing High sophomores are bringing a bunch of friends with them.
After qualifying as individuals last year, Lozenski and Jaqua helped Lansing qualify a full squad for state when the Lions placed third at the Class 5A regional meet at Wyandotte County Park.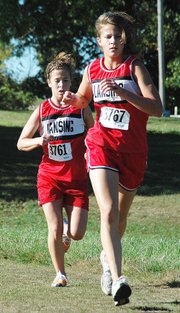 State will take place Saturday, Oct. 27, at Rim Rock Farm in Lawrence. This is the first time Lansing has sent a full girls' squad to state since 2003.
Defending state champion St. Thomas Aquinas won the regional with 21 points, Bishop Miege was second with 51 and Lansing was third with 71. Mill Valley also qualified a full squad by placing fourth with 91 points.
Aquinas' Ashley Washburn was the regional champion in the four-kilometer course in 16:14. Jaqua led LHS with a sixth-place finish in 16:49. Lozenski was the Lion's No. 5 runner, placing 23rd in 18:34. It was Lozenski's first race in nearly a month after being sidelined by an ankle injury.
Sandwiched between Lansing's two state veterans, sophomore Sarah Nielsen placed ninth in 17:08, sophomore Melanie Pilkington was 14th in 17:30 and sophomore Julia Winkler was 20th in 18:10.
Also competing for LHS were sophomore Kate Meara (29th, 19:26) and freshman Cassie Roberts (31st, 19:38).
Three LHS boys also will be making the trip to Rim Rock Farm, but they'll be going as individual qualifiers. Lansing finished fifth in the team standings, eight points behind Mill Valley, the final full-squad qualifier. Aquinas won the team title with a perfect score of 15 points. Bonner Springs was second with 62 and Bishop Miege third with 67.
Sophomore Brandon Craig earned a return trip to state by placing ninth in the five-kilometer race in 17:34. Senior Griffin Davis will be making his first state trip after placing 23rd in 18:51. So will freshman Pete LaMoe, who was 24th in 19:02.
For more on the regional meet and a preview of state, pick up the Oct. 25 edition of The Current.