Lions land spot at state volleyball tourney
All season long, the Lansing High volleyball team's goal has been to advance to the Class 5A state tournament.
All season long, the Lions knew the key to guaranteeing their spot at state rested in securing the No. 1 seed at the substate tournament. To do so would keep them away from state powers Topeka Seaman and Shawnee Heights. After falling in the substate finals the past two seasons to Seaman in the No. 2 vs. No. 3 substate clash, the Lions wanted out of that game.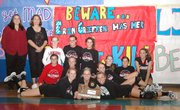 Mission accomplished and, because of it, mission accomplished.
By winning 36 of 38 matches during the regular season, Lansing earned that top seed. On Saturday at Seaman, the Lions took the next step and earned a state tournament berth. They won their first-round match with Highland Park, 25-9, 25-11, and then demolished Schlagle in the finals, 25-1, 25-2.
In the other substate bracket Saturday, Seaman ended Shawnee Heights' streak of state tournament appearances at 10 by rolling to a 25-18, 25-17 victory in the finals. Seaman now is 33-7 this year.
Meanwhile, Lansing is 38-2, and the Lions made their victories look easy. They surged to a 7-0 lead in game one against Highland Park as Lisa Angello blasted a pair of aces and a kill, Brittney Lang had a kill and Lang and Sara Logan combined for a block. That was only the beginning. Kristen Jensen and Julia Bates added aces, and Lang, Logan, Angello, Bates and Rachel Milnark took turns pounding kills. Game two was more of the same.
The finals match was a mere formality because Lansing was clicking on all cylinders. A Logan kill was just the beginning of a game-opening 14-0 run. Jensen blended in a pair of aces and Lang had five kills and a block during that stretch. After a Schlagle point, Breanne Sanders fired three aces during a game-ending 11-0 run.
The Lions built a 15-0 run in game two and never looked back. Erin Griffen capped the match with an ace to solidify the state berth.
The state tournament will take place Oct. 26-27 at the Kansas Expocentre in Topeka.
Lansing's state volleyball roster will consist of seniors Katie Nietzke, Morgan Chiles, Sara Logan, Kristen Jensen and Erin Griffen, juniors Brittney Lang, Julia Bates and Katie Cristiano, and sophomores Lisa Angello, Madison Brandt, Breanne Sanders and Rachel Milnark.
Teams competing at state will be Bishop Miege (38-1), Lansing (38-2), Newton (38-2), St. Thomas Aquinas (35-2), Topeka Seaman (33-7), Great Bend (25-10), Emporia (27-13) and Valley Center (22-14).
For more on the substate tournament, as well as a preview of state, pick up the Oct. 25 issue of The Current.