7th-graders win tourney at Tongie
The Lansing Middle School seventh-grade volleyball A team closed out a near-perfect season with a first-place finish Saturday, Oct. 6, at the Tonganoxie Tournament.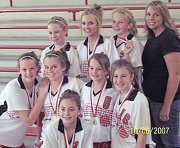 The Lions fended off Clark Middle School in their first-round match, 25-18, 25-15, and then cruised past Linwood Middle School, 25-8, 25-11, before toppling Tonganoxie in the finals, 25-15, 25-23.
The seventh-graders ended their season with a 12-1 record and 10-match winning streak. Team members are Briana Lozenski, Paige Brandt, Jenna Hoyt, Makenzi Hurt, Kelsie Pitsenbarger, Ashley Linaweaver, Katie Pettis and Morgan Brommel. Team managers are Madie Howard and Jill Pickett. They are coached by Jill Gwartney and Ed Fenton.
The LMS eighth-grade A team also played in Tonganoxie on Saturday, and the Lions placed second in their bracket. They won their opener against Clark, 25-7, 25-3, and then disposed of Linwood, 25-9, 25-18. Tonganoxie edged LMS in the finals, 25-24, 14-25, in a match that featured a 25-point cap rather than a "win by two" rule. As a result, Tonganoxie won the tournament.
The LMS eighth-graders ended their season with a 10-3 record. Team members are Alex Taylor, Heather Wiehe, Brooke White, Haylee Marsteller, Shelby Kane, Alexis Shanks, Lori Angello, Tawnee Hall and Gabby Hacker. They are managed by Taylor Kroll and coached by Chris Elliott and Courtney Rogers.