On the brink of history
Lions aim for season wins mark, program's second state title
Topeka — The ghosts of the past have lingered over the Lansing High volleyball team since day one this season.
They've visited the Lions in dreams in the form of a state championship; they've been whispered about in the stands at matches; they've loomed above the Lions each day at school in the form of a photograph in the LHS commons area.
Yes, the 2007 Lions have been compared to the famed 2002 squad that won the Class 4A state championship - the only one in the program's storied history.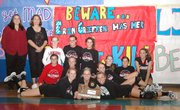 This year's team has aspired to match or surpass the accomplishments of the championship squad, and so far the similarities are striking. Both won undefeated Kaw Valley League championships. Both won the Louisburg Invitational. Both were substate champions.
The Lions added one more similarity on Saturday when they defeated Highland Park, 25-9, 25-11, and then routed Schlagle (25-1, 25-2) at the Class 5A substate tournament at Topeka Seaman. By improving to 38-2, they now have equaled the record of the 2002 team.
"Our record right now is tied for the best record in Lansing history," senior Kristen Jensen said. "That means a lot to us : that's the state championship team. I think that's what's really getting us. We've been compared to them the whole time and then we're at their record right now, so we're really excited about it."
LHS needs one victory in pool play at state to set the program record for wins. It needs a few more than that to be state champs.
The journey begins at 8:30 a.m. Friday when Lansing begins pool play against Emporia (27-13) at the Kansas Expocentre. LHS also plays at 10:30 a.m. against Great Bend (25-10) and at 12:30 p.m. against Newton (38-2). Teams in the other pool are Bishop Miege (38-1), St. Thomas Aquinas (35-2), Topeka Seaman (33-7) and Valley Center (22-14). The top two teams advance to Saturday's 10 a.m. semifinals.
Although the state field will be much tougher than regionals, junior Brittney Lang said the Lions are battle-tested and ready for the challenge.
"We know what to expect," she said. "We've just got to work on our defense a lot."
Lang pointed to the Lions' difficult schedule as proof that they're ready.
"I think St. James (41-0 and No. 1 in 4A) was a good test for us, even for losing, because it gets us ready for what we're going to see at state," she said.
Julie Slater agreed. The 23rd-year coach is taking Lansing to state for the 12th time. With three runner-up finishes and a championship, she knows good volleyball. She also knows this team is one of Lansing's best ever and a title contender.
"We have a great team, and we feel like we can compete and we're going to be right in the mix," LHS coach Julie Slater said. "Our goal is to make it to Saturday. That's the goal. And when you make it to Saturday, anything can happen."