LHS

runners want to be 'in the mix'
Kansas City, Kan. — Abbey Lozenski and Lauren Jaqua are headed back to the state cross country meet, and this time the Lansing High sophomores are bringing a bunch of friends with them.
After qualifying as individuals last year, Lozenski and Jaqua helped Lansing qualify a full squad for state when the Lions placed third at the Class 5A regional meet at Wyandotte County Park.
"When we get to represent Lansing as a team next week at state : it'll be amazing," Lozenski said. "We've put so much work into it, and that has helped a lot."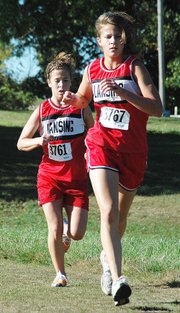 Defending state champion St. Thomas Aquinas won the regional with 21 points, Bishop Miege was second with 51 and Lansing was third with 71. Mill Valley also qualified a full squad by placing fourth with 91.
State will take place at 10 a.m. Saturday, Oct. 27, at Rim Rock Farm in Lawrence. This is the first time Lansing has sent a full girls' squad to state since 2003.
"The girls had this in mind since last summer when they saw that they had the nucleus of a good team," LHS coach Errol Logue said. "Down at our first meet at Girard, we ate afterward, and they all sat around a table and this is what they were talking about. I'm happy to see them realize their goal."
The Lions accomplished that goal despite competing in arguably the state's toughest regional.
"They're young, but they don't back down," assistant coach Melanie King said. "They don't get intimidated. To them, they like to rise to meet the challenges, and that's what's fun to watch."
Aquinas' Ashley Washburn - last year's state runner-up - was the regional champion in the four-kilometer course in 16:14. Jaqua led LHS with a sixth-place finish in 16:49. Lozenski was the Lion's No. 5 runner, placing 23rd in 18:34. It was Lozenski's first race in nearly a month after being sidelined by an ankle injury.
"She's really strong and mentally tough," Jaqua said of Lozenski. "It's really great to have her back."
Sandwiched between Lansing's two state veterans, sophomore Sarah Nielsen placed ninth in 17:08, sophomore Melanie Pilkington was 14th in 17:30 and sophomore Julia Winkler was 20th in 18:10.
Also competing for LHS were sophomore Kate Meara (29th, 19:26) and freshman Cassie Roberts (31st, 19:38).
When the Lions step to the starting line at Rim Rock, their lineup of six sophomores and one freshman likely will make them the youngest team at state. They've placed first at four of seven meets this year, however, so it'll also make them one of the more dangerous squads in attendance. With that kind of success under their belt, Logue said state should be a springboard to an even brighter future.
"As young as they are, if we can be in the mix this year, just think what we can come back and do next year," he said.