Still coaching 39 years later
Lansing High cross country coach Errol Logue said he considered this season a success even before the girls' team and three individual boys runners qualified for the state meet Saturday.
"This team deserves what they get because they've worked so hard," Logue said, pointing to summer training and productive practices this year. "I'm happy to see them successful both as individuals and a team because they deserve it."
Regardless of the outcome, though, Logue said, he's enjoyed what motivates him this season as always - "the special bond formed between coach and athlete when you're both working toward a goal."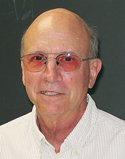 Logue said one of his proudest moments in his 39 years on the job was coaching his son, Matt, LHS Class of '89, who won four individual state titles two in cross country and two in track.
But he said, perhaps even more so than coaching the standouts, he enjoys observing the more mediocre runners - like he was as a younger man - who achieve above their expected potential.
"The one's I really remember are the average athletes that just work (their) heart out," Logue said. "I identify with them."
Besides coaching, Logue is a psychology and history teacher at the school.
His wife, Claudia, has taught government classes next door for the past six years as well.
When Logue has a question for her, all he has to do is knock on the interior door that divides the two's classrooms.
The teaching duo is among students' favorites at the high school, although, Logue admitted, "I'm a bit more hard-nosed, I think."
As for retirement, the aging Errol Logue said, "I'm eligible now, but I'm hanging on for a while : I'm enjoying myself so there's no reason to leave at this point."
NAME: Errol Logue
ADDRESS: 14175 Robin Rd., Lansing
OCCUPATION: Teacher/Coach, LHS
FAMILY: Claudia, wife; Andy, son; Matt, son
HOW LONG HAVE YOU LIVED IN LANSING, AND WHAT BROUGHT YOU HERE? "39 years : There was a job opening in Lansing I applied for and got it. We knew we wanted to get back to this part of the country."
WHAT DO YOU LIKE MOST ABOUT LANSING? "We wanted to raise our kids in a small community, but at the same time, you have easy access to all of Kansas City."
WHAT DO YOU DO FOR FUN? "There's nothing better than spending time with family ... and I enjoy working in the yard as well."
WHAT MIGHT SURPRISE PEOPLE ABOUT YOU? "My runners might be amazed by the fact that I ran in a footrace at Pikes Peak."
WHAT IS THE BEST ADVICE YOU'VE EVER RECEIVED? "I grew up in a good Christian home, and I was taught as a young child that the best way to be happy is to live according to God's plan for your life."
WHAT CLUBS OR ORGANIZATIONS DO YOU BELONG TO? State/National Track & Field and Cross Country Coaches Association, State/Local Teachers Association, Wallula Christian Church