Lions move on to state semifinals
No. 1 Bishop Miege is up next for
LHS
Topeka — "Survivor: Topeka" made its first round of cuts Friday at the Kansas Expocentre, and the Lansing High volleyball team advanced to the next round.
Four competitors remain - Lansing, Bishop Miege, Newton and St. Thomas Aquinas - and the prize at stake is the Class 5A state championship.
Photo Gallery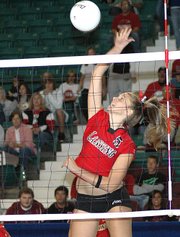 State Volleyball: Day One
LHS advanced to the next round by beating Emporia (25-23, 22-25, 25-23) and Great Bend (26-24, 25-16) before falling to Newton (25-17, 19-25, 25-9).
"We're happy. It was a good day," LHS coach Julie Slater said after her team moved on to day two. "That third match I really felt fatigue really strongly with the girls. They were just kind of stuck, couldn't move defensively. Sometimes that happens. We were up at 5 this morning, so it's a long day. I'm happy."
Lansing (40-3) will play Bishop Miege (41-1) at 10 a.m. Saturday in the semifinals. Aquinas will play Newton at the same time on the other court. The championship and third-place matches will follow.
The Stags have been ranked No. 1 in the state all year, and they rolled through their pool on Friday with easy victories over Valley Center and Topeka Seaman before edging rival Aquinas, 24-26, 25-20, 25-20, in their final match of the day.
Miege is chasing its 18th state championship while Lansing is after its second. Even though the Stags are the top seed and the favorites to win this year, Slater said anything is possible.
"You do the best you can, get out there and compete," she said. "You see it in every sport. Top dogs get upset all the time. It happens in the NCAA Tournament, you know.
"(There's) no pressure)," she added. "We've just gotta relax and try to beat 'em."
LANSING EDGES EMPORIA
Lansing entered its first match of the day energized and focused, but an upset-minded Emporia squad wasn't willing to give a free pass. In fact, the Lions (39-2) needed three games to edge the Spartans, 25-23, 22-25, 25-23.
The Spartans jumped out to an early 4-1 lead in game one and later held a 14-11 advantage. The Lions battled back with an 8-0 surge that was sparked by two Brittney Lang blocks, kills by Rachel Milnark and Julia Bates and three Emporia hitting errors to build a 19-14 lead. Lansing's lead wasn't safe, however. Emporia rallied back and pulled within 24-23 before Lang thundered a game-ending kill.
Emporia bolted to a 7-2 lead in game two before three kills by Milnark fueled a 7-1 rally that put LHS ahead 9-8. The Lions eventually built a 20-17 lead before the Spartans closed the game with an 8-2 charge and evened the match at one game apiece.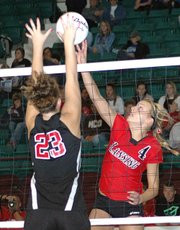 The Spartans (27-14) rode the momentum into game three and rolled to a 10-6 lead before the Lions ever got going. They finally heated up with kills by Sara Logan, Lisa Angello, Lang and Bates, but the Spartans held firm and clung to an 18-15 lead late in the game.
Lansing called a timeout, and then made a 4-0 run upon returning to the court. Then it was Emporia's turn. It called a timeout, settled down and regained a 22-20 lead with a 4-1 run. LHS called another timeout, and then it slipped behind 23-20 before sprinting to the finish with a 5-0 run that included a pair of aces by Katie Nietzke, an Emporia hitting error and kills from Lang and Kristen Jensen.
"The first match is always just a huge, huge thing," Slater said. "First game jitters, and both teams have it. You've just got to try to struggle through it, and if get out with a win that's great."
The Lions escaped with the victory, they owed it to their defensive intensity and hustle. The offense wasn't particularly sharp throughout the match, but a slew of dazzling defensive plays - Jensen sliding into the bench to keep a ball alive for a point; Sara Logan crashing into the wall while making a save, Milnark and Breanne Sanders diving across the floor for point-saving digs - helped them hang on.
"Everybody was really nervous at the beginning," Milnark said. "We had a tough match at the beginning, but we pulled through and finally came together as a team. Everybody got their jitters out and knew that as a team we could do this."
The victory was Lansing's 39th of the year and set a new school record for wins in a season. The old mark of 38 was set by the 2002 team that went 38-2 and won the Class 4A state championship.
LIONS BOOT GREAT BEND
Lansing faced another stiff challenge in its second match of the day against a Great Bend squad that had shot-smothering blocks and thunderous kills. That combination had LHS reeling early before claiming a 26-24, 25-16 victory.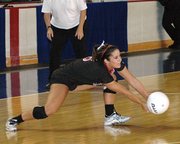 LHS (40-2) fell behind 5-1 in game one. Eventually the teams traded points, but that wasn't good enough as Great Bend (25-12) extended its lead to 16-10.
That's when the Lions began varying their attack. Julia Bates would thump a kill, and Brittney Lang would tip one over. Lisa Angello would pound one, and the defense would counter follow with a block. After a 6-1 run they trailed just 17-16.
Two kills by Rachel Milnark and two more by Angello put LHS ahead 22-20. Great Bend Rallied to tie the match at 24-24, but a Lang kill and a Panther hitting error gave the Lions a 26-24 victory.
After the early scare, the Lions wasted no time polishing off the Panthers in game two. They surged to a 9-4 lead, extended their advantage to double-digits and never looked back in a 25-16 victory. Lang and Bates had three kills apiece in the decisive game.
NEWTON TOPS LHS IN THREE
Few things went right for Lansing in its final match of the day as Newton handed LHS a 25-17, 19-25, 25-9 defeat.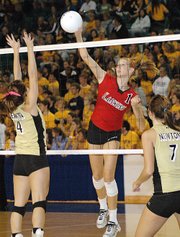 Newton (41-2) raced to a 5-1 lead in game one before Lansing recovered. The Lions (40-3) answered with a 6-2 run to tie the match, but Newton scored 14 of the next 18 points before closing out the game.
The Lions trailed again in game two, but a mid-game flurry by Lisa Angello on three kills and three aces put them ahead 14-11. The Railers rallied to tie the match at 18-18, but a kill by Julia Bates reignited the Lions' offense. Sara Logan and Angello thumped back-to-back kills, Angello had a solo block and then Angello and Kristen Jensen combined on a block to put the Lions ahead 24-19. Then Milnark fired an ace to close out game two and even the match.
Newton opened game three on a 7-0 run and eventually built a 16-2 lead before coasting to the victory.