Big plays propel Lansing to district title
Hauver runs for 4 touchdowns, throws for 1 in victory
With the Class 5A District 1 championship and a state playoff berth hanging in the balance Friday night, the Lansing High football team asked its playmakers to step up.
They responded in a major way as the Lions overcame three first-half turnovers by forcing four and piling up 520 yards of offense in a 41-14 victory against KC-Schlagle at Frank Graham Field.
The victory gave LHS its third district title in four years and a fourth straight playoff berth.
Photo Gallery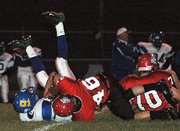 Lansing 41, Schlagle 14
"Our team is full of playmakers," LHS senior quarterback Bobby Hauver said. "We've got a lot of guys that can make big plays for us. We just played really well tonight as a team, so I'm pretty happy."
There were few playmakers bigger for Lansing than Hauver. He rushed for 164 yards and four touchdowns and also threw for 97 yards and a score. Of course, that was just the first of an assortment of big-time threats for the Lions. Senior tailback Chris Hill ran for 84 yards, senior fullback Brad Terron rushed for 80 yards, and senior Justin Smith caught a 51-yard touchdown pass.
And with so much yardage - the Lions averaged 8.81 yards per play - offensive linemen Nick Brungardt, Brendan Becker, Zach Robinson, Mycol Bowen and Cody Rush were taking care of business all night.
"I know I can follow my blockers all night long," Hauver said. "They did a great job for me."
The defense also got the job done. Although it allowed 230 yards as Schlagle's dangerous running game to broke free at times, it forced numerous turnovers and shut out the Stallions in the second half. Senior linebackers David Dickson (11 tackles) and Terron (nine tackles) had plenty to do with that, as did Bowen (nine tackles).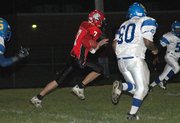 Stephen Didde picked off a pass on Schlagle's opening drive, and Lansing turned it into a nine-play, 74-yard scoring drive. Hauver capped it with a seven-yard run, and Hill ran for the two-point conversion to make it 8-0 six minutes in. That was one of the few short scores.
Most of the glossy numbers came on big plays.
Lansing's second touchdown - which came after back-to-back turnovers - happened midway through the second quarter when Hauver slipped through the middle, popped to the outside and then cut back behind a blocker. His 34-yard jaunt and Matt Robbins' extra point extended the lead to 15-0.
Schlagle answered 68 seconds later when a 39-yard kickoff return by Raymond Newton and a 35-yard run by Jeffrey Jones set up a six-yard touchdown run by Stallions senior quarterback Tyrone Wallace. Josh Pack's kick trimmed the Lions' lead to 15-7.
After LHS turned the ball over on downs, Schlagle drove to near midfield with time running down on the first half. Wallace dropped back and fired a pass over the middle, and Smith picked it off and raced 52 yards to the endzone. Suddenly LHS led 22-7 with 1:18 left before the break.
The Stallions used a bit of trickery on their ensuing possession. A halfback pass from JeVon Williams to Julian Batts went for 39 yards. Five plays later Wallace connected with Jones for a 12-yard touchdown with 25 seconds on the clock.
Instead of taking a knee and heading to the locker room, LHS gave Terron the ball for a 15-yard gain up the middle. The Lions called timeout with 12.3 seconds left and drew up a deep ball to Smith. It worked perfectly, and Smith's second score of the half sent Lansing into the break with a 28-14 lead.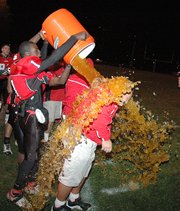 LHS already had 311 yards of offense by halftime, and the Lions quickly added to that total in the third quarter. On the first play from scrimmage, Hauver took an option keeper to the right, hit a seam and used a downfield block by Smith to reach the endzone from 44 yards out. Just 13 seconds into the second half the lead was 34-14.
"I think it was important for us to go down the field and score that first series, and our guys came out and did that," LHS coach Bill Pekarek said. "I think that was real important at getting that momentum started. And we've been getting that momentum started the last three or four games with some big plays right at the beginning of the third period."
The LHS defense forced a quick three-and-out and then went down and scored again. This time Hauver's touchdown run was from four yards out.
Midway through the quarter Pekarek began putting in the reserves, and they also performed well. Freshman Dillon Scanlon had two carries for 13 yards and freshman Spencer Blew had one run for 17 yards.
"It was nice tonight that we got every kid that's been coming to practice into the game," Pekarek said. "I thought that was big too."
With the exception of the turnovers, it may have been Lansing's best all-around performance of the season. That's saying a lot considering they've won seven games in a row and were playing with the added pressure of needing a win to continue their season.
"We've been real focused," Smith said. "We wrote 'finish' on our helmets. That's what we were aiming to do. We just had to come out and finish everything. Things didn't go our way the first half, but the second half is our time to shine."
Lansing (8-1) will find out Saturday who its regional playoff opponent will be - most likely St. Thomas Aquinas or Gardner-Edgerton. Last year was the Lions' first year in 5A, and they made the playoffs with a losing record before losing to Turner in regionals.
No LHS team has ever made it past regionals, but Dickson said the Lions learned from last year's experience and are ready to take the next step.
"We've been told since we were freshmen that nobody's gone past regionals," he said. "We got to regionals last year and thought we had a pretty good chance, and it turned out pretty bad. We want to come back this year and demolish that and make it our own."
NOTES
- Hauver's 164 rushing yards were a career high, as were his four rushing touchdowns.
- In all, 11 different Lions had rushing plays Friday night for a total of 432 yards on 53 carries.
- Five different receivers caught passes.
- Schlagle running back Jeffrey Jones had 108 yards on 16 carries.
- Dickson led LHS with 11 tackles, Brad Terron and Mycol Bowen had nine apiece, and Stephen Didde and Brendan Becker each had seven stops.
- Eddie Silva, Brendan Becker and Mike McSweeney recovered fumbles.
- Brenton Smith had his fourth sack of the season.