Basehor-Linwood soccer team loses thrilling game to
KC

Christian
Bobcats fall 3-2 in triple overtime
After 104 tense minutes of soccer, the end came with six seconds left in the third overtime Monday night in Basehor. It took Kansas City Christian all of regulation and almost all of three overtime periods to dispatch Basehor-Linwood. Forward Tarnu Mulbah beat goaltender Matt Murrell to end the game, 3-2, and end what had been the most successful season in Bobcat history.
Coach Kevin Vincent spoke to the team after the game. The emotional Bobcats were six seconds away from a shootout with KC Christian.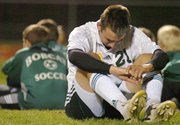 "You took Basehor-Linwood from an unknown soccer team to a power in the state," he said. "You accomplished things that we had never come close to in soccer. We won two banners that we can hang in our gymnasium and we did it as a team.
"I know this wasn't how many of us expected it to end," he said. "I couldn't be prouder of you all. You worked hard and left everything on the field. You have nothing to be ashamed of.
"They played well beyond expectations tonight," Vincent said. "No regrets, everyone on the field played one of the best games I have ever seen. I might coach five years or 50 years, but you guys will always be a special team to me. I will never forget the ride we took this year as a team. I wish that I could say something to make you feel better."
Hugs were met with tears.
Captain Sam Seaman spoke about the bond between his friends and teammates.
"I have been here for four years and I don't love anybody more in this school or in life right now," he said. "That is all I got to say."
KC Christian took a 2-0 lead to halftime after scoring goals in the 24th and 30th minutes, by Rex McEldowney and Jeff Hirleman, respectively. Basehor had a bevy of scoring opportunities in the first 20 minutes of the game, but was unable to score.
Vincent had a simple message for the team at halftime: "I told them that we weren't out of it and that we had to keep knocking. We were the top seed and we just needed to play like we had and what had gotten us to that point."
Basehor-Linwood made it a game in the 42nd minute when Ryan Sirridge scored a goal off a corner kick. Three minutes later, it looked like KC Christian had scored a goal on a loose ball near the net. Bobcat players argued and got the goal overturned after the referee conferred with a line judge, eliciting an eruption of joy in the Basehor stands.
Sam Seaman tied the game 2-2 in the 27th minute of the second half off another corner kick.
"At that point, I think we really felt like we were destined to win," Vincent said. "If you can overcome a 2-0 deficit against a team of that caliber-- we felt it was destiny."
There were four shots on goal in the first overtime, with both teams failing to capitalize.
In the third minute of the second overtime, Ryan Sirridge had a breakaway shot attempt that just sailed over the goal. It would be the Bobcat's most realistic chance of extending their season.
A back and forth game, and the Bobcat's season, was ended when Murrell went after a ball at the end of the third overtime that Mulbah knocked in for the victory.
"Honestly, when we got our second goal, I felt that we were going to win," Vincent said. "It was almost stunning when they scored, because I felt like we were going to come out on top. I felt we were playing really well."
Vincent focused on the context of the team's season, which included the first league championship in school history and the Bobcat's best ever record, a few hours after the game's completion.
"Our aspirations were to make it to state," Vincent said. "Unfortunately we lost to a very good team. We still had a very successful season. We look at it as our ultimate goal was making state, but if you feel like you did all you could and left everything out there, you can't have regrets about what didn't happen."
Ryan Sirridge agreed with his coach's assessment.
"We all worked as hard as we could every game," Sirridge said. "We left nothing out there. We lost with two seconds left on the clock. You can't do any more."
Vincent quickly realized he had coached his seniors for the last time, a group that had led the Bobcats to soccer prominence.
"The team this year set the groundwork that we will continue to build the tradition that has become BLHS soccer and leave this program better than they found it," Vincent said. "The younger kids have had role models to look up to. These seniors came so far since their freshman year and were instrumental in all these accomplishments."