Lansing throttles Tonganoxie in season-opener, 42-6
Last year the Lansing High football team struggled to do much right during its season-opening loss at Tonganoxie.
Long awaited redemption came Friday night at Frank Graham Field. The Lions clicked on all cylinders on both sides of the ball as they rolled to a 42-6 shellacking of the rival Chieftains.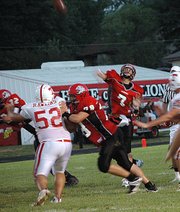 It was the perfect start to a season where the Lions have lofty goals that include winning the Kaw Valley League championship and advancing to the state playoffs for a fourth straight year.
"For the first game and against this kind of opponent, I thought we played pretty well in a lot of areas," LHS coach Bill Pekarek said.
Those areas included pretty much every category available on the stat sheet. Rushing, passing, tackling : you name it, and the Lions did it effectively.
Senior fullback Brad Terron rumbled for 107 yards on eight carries, good for an average of 13.4 yards per carry to go along with a touchdown. Senior tailback Chris Hill had 63 yards and two scores on 17 carries. Senior quarterback Bobby Hauver and junior tailback Brenton Smith also rushed for touchdowns and senior wide receiver Kevin Johnson caught a pass for a 30-yard score.
Defensively, senior linebacker David Dickson had a team-high 15 tackles and Terron added 11 from his linebacker post. Meanwhile, the LHS defense allowed Tonganoxie just 170 yards of total offense compared to the 403 that the Lions piled up.
"Defensively, I thought we really played well," Pekarek said. "They started a freshman at quarterback, and our blitz had an effect on the game."
Lansing took the lead less than five minutes into the game when Hill scored on a five-yard run. Junior Matt Robbins added the extra point to give the Lions a 7-0 lead.
LHS started another scoring drive late in the first quarter, but it didn't punch in the score until 32 seconds had expired in the second quarter. That's when Hauver connected with Johnson for a 30-yard touchdown. The Lions got the ball back quickly and Hill punched home another score on a four-yard run. A 44-yard touchdown run by Hauver with 3:57 remaining pushed the lead to 28-0.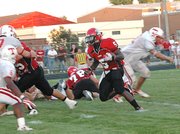 "We played great in the first half," Pekarek said. "I thought we played well on the ground and in the air, and the line really did a great job up front."
Despite the lopsided deficit, Tonganoxie stepped up its intensity in the third quarter and nearly logged a shutout for the quarter. A 31-yard scoring stampede by Terron with 1:46 left was the lone score of the quarter.
THS put its only points on the board with 11:15 left in the fourth quarter when Jeremy Carlisle connected with D.J. Gray for a 24-yard score. Lansing responded with another touchdown four minutes later on a three-yard run by Smith.
Pekarek said his players' physical play was the difference in the victory, and that's a point that Tonganoxie coach Mark Elston seemed to agree with.
"They didn't do anything very tricky," Elston said of LHS. "They just lined up and whipped us at the line. That's a little bit disheartening."
For Lansing, however, it's something to feel good about. After all, Tonganoxie is the defending league champion, so to win in such convincing fashion is a definite confidence booster heading into week two when LHS plays a 7 p.m. Friday game at Perry-Lecompton.
NOTES
- Brad Terron rushed for a team-high 107 yards and a touchdown on eight carries.
- Chris Hill scored twice and had 63 yards on 17 carries.
- Bobby Hauver completed eight of 14 passes for 158 yards and a touchdown. He also had five carries for 28 yards and a score.
- Justin Smith caught two passes for 42 yards.
- Stephen Didde caught two passes for 62 yards.
- Kevin Johnson's first catch as a LHS football player went for a 30-yard touchdown.
- David Dickson had a team-high 15 tackles including seven unassisted stops.
- Brad Terron made 11 tackles, four of them unassisted.
- Matt Robbins converted four of five extra-point tries.
- Nick Novak and Mycol Bowen both recovered fumbles.
- Matt Robbins had an interception and five-yard return.
- Lansing had 15 first downs compared to eight for Tonganoxie.
- The Lions outrushed the Chieftains, 245-135.
- The Lions outpassed the Chieftains, 158-35.
- LHS punted just twice all game.
-Current sports reporter Chris Wristen contributed to this report.