Hammer time
Volleyball squad set to reveal high-powered offense tonight
Lansing High volleyball coach Julie Slater had eight good reasons to expect the Lions would be good this season: Brittney Lang, Katie Nietzke, Morgan Chiles, Sara Logan, Breanne Sanders, Rachel Milnark, Kristen Jensen and Erin Griffen.
Those eight are all returners from a squad that posted a 26-10 record and advanced to the Class 5A substate finals in 2006. All showed steady improvement throughout the season, Slater said, and all made valuable contributions.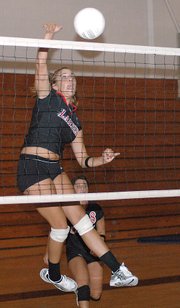 The 23rd-year coach added a ninth reason to have high expectations when the Lions turned in a third-place finish in a tournament at Park Hill (Mo.) High School this summer.
"There were really good schools there like St. Teresa's (Mo.) that won the big class title last year, and St. Pius (Mo.) that won a state championship," Slater said.
In addition to Class 4 champion St. Teresa's and Class 3 winner St. Pius X, other solid Missouri programs such as Springfield, Park Hill South and Oak Park were there. Lansing fell to Springfield in the semifinals, but earned victories over St. Teresa's and St. Pius during the tournament.
"I have a really good nucleus of girls that played club ball in the offseason, and they have just improved astronomically," Slater said. "They've worked hard and put a lot of time into their game, and it shows."
Slater said her team has played with a lot of confidence during the first three weeks of practice, and she said her players understand that expectations are high. A Kaw Valley League championship is an obvious goal, but so is returning to the state tournament - something that has eluded the Lions since they last made it in 2004.
"Work ethic has been top-notch; they have a lot of confidence, and they have goals," Slater said. "I can tell they're setting the bar pretty high, and that's a good thing."
Two newcomers will join the returning eight to round out the varsity roster. They are junior Julia Bates, a 5-foot-10 setter who transferred to LHS from Leavenworth, and 5-foot-10 middle blocker Lisa Angello, a sophomore. Slater said she expects to see both newcomers make an immediate impact. Bates will be the starting setter, and Angello "will be a 'wow' player," Slater said, referencing Angello's power at the net.
Bates and Angello will bolster an offense that should be one of the most potent in the KVL. Top hitters Lang and Milnark were constant threats last year, and both are stronger this year. In addition, Logan and Griffen are proven contributors from the outside.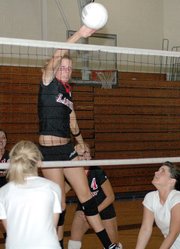 Jensen may be the Lions' surprise player. Two years removed from anterior cruciate ligament surgery, Slater said Jensen's confidence is back.
"Kristen Jensen worked her tail off," Slater said. "She just has improved so much and put so much work and effort into her game. She looks great."
Slater said Chiles and Nietzke would share time as defensive specialists on the back row, and Sanders, last season's setter, will shift to the defensive-minded libero position.
If the Lansing offense sounds loaded, that's because it is. In addition to having an arsenal of experienced hitters, it also has plenty of experienced passers. Sanders, Jensen and Logan all have served as setters at some point in their prep careers. In theory, that should equate to an even more efficient offense this season.
"Our passing is going to have to be there for us to be as successful as we think we will be," Slater said. "The passing is going to be key because I know we have the passers and the hitters."
Lansing's weakest point early on may be its defense, but that only stands out for one reason.
"We're just not getting much practice defensively because our offense is so strong," Slater said. "We'll have to work on that."
Lansing opens its season at 5 p.m. today against Turner and Blue Valley at Turner High School. LHS then returns to action at 9 a.m. Saturday at the Lansing Invitational. The Lions will open the tournament at 9 a.m. against Sabetha. After that is a 10 a.m. match against Basehor-Linwood, a noon match against Louisburg and a 1 p.m. match against Shawnee Mission North before bracket play begins.