Innovative no matter the job
A popular Lansing teacher has moved out of the classroom and into the administrative office this year.
For Dan Wessel, Lansing High School's new assistant principal and former multimedia teacher, it's been a good change, but, naturally, some aspects of his job are different.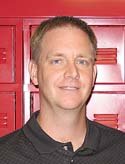 "The biggest transition is getting to have daily conversations with 150 kids," Wessel said. "You lose a lot of that.
"I try to get some of that : but the kids look at you differently now, like, 'What is he doing here?'"
Being the disciplinarian is not always a fun job, but Wessel's amiable personality makes it easier for students to identify with him.
"I've always had high expectations, so the discipline part, it's not a punishment," Wessel said. "It's trying to get them to change their behavior. It's part of the learning process."
As an administrator, Wessel has more interaction with particular students, parents and with teachers.
"The hope is that you can empower teachers to do innovative things in the classroom," Wessel said.
He used that innovative spirit often in 11 years as LHS's multimedia teacher, instructing students in video and web production.
"Ultimately I think those two need to meld," Wessel said. "There's a convergence of all media forms coming together, but I think we do a decent job of preparing some of the kids for that."
Outside of work, Wessel likes to spend time with his wife - a high school sweetheart who works as a counselor at LHS - and two children in his new home southwest of Lansing. He is currently pursuing a doctorate degree through Kansas State University as well.
Wessel also holds a bachelor's degree from Washburn University in mathematics and a master's in administration from the University of Kansas.
Along with his teaching duties, Wessel is stepping down as a junior varsity basketball coach, for the girls team last year and for the boys nine years prior to that.
NAME: Dan Wessel
ADDRESS: Rural Lansing
OCCUPATION: Assistant principal, LHS
FAMILY: Kristie, wife; Eric, 6, son; Kara, 18 months, daughter
HOW LONG HAVE YOU LIVED IN LANSING AND WHAT BROUGHT YOU HERE? "We recently moved here this summer (from near Fort Leavenworth). Change in jobs."
WHAT DO YOU LIKE MOST ABOUT LANSING? "Obviously the great schools. Also the people are very nice, and we have great kids."
WHAT DO YOU DO FOR FUN? "I entered two fantasy football leagues this year, play baseball with my son and watch my daughter run the house."
WHAT MIGHT SURPRISE PEOPLE ABOUT YOU? "I was class valedictorian."
WHAT IS THE BEST ADVICE YOU HAVE EVER RECEIVED? "In my job, probably, always remember that parents love their kids."