Lansing jumps all over Turner, Blue Valley
Angello, Jensen spark Lions to season-opening volleyball sweep
Kansas City, Kan. — If area volleyball fans learned anything from Lansing High's sweep of Turner and Blue Valley on Thursday night, it's that Lisa Angello has a nasty jump serve.
She's not shy about using it, either.
Angello, a 5-foot-10 sophomore, used her jump serve repeatedly, and she hammered it was stunning efficiency. She notched seven aces during a 25-11, 25-17 victory over Turner in the Golden Bears' home gymnasium. Then she added two more in a 25-20, 25-17 win against Blue Valley.
Photo Gallery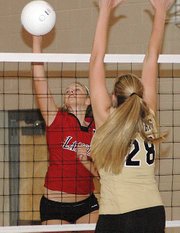 LHS rolls in volleyball opener
The jump serve may have come as a surprise to long-time LHS volleyball observers. Prior to this season, coach Julie Slater never has allowed a player to use the jump serve. Angello made Slater change her mind.
"My deal is consistency," Slater said. "If somebody can do that with consistency : and she can do it, so she has the green light.
Sophomore Rachel Milnark also has the green light to jump serve, and she used it for an ace against Blue Valley.
Of course, serving wasn't the only highlight of the night for the Lions. They looked solid in most areas. Go-to hitters Milnark, Angello and junior Brittney Lang pounded numerous kills. Junior Julia Bates was effective as a passer and hitter in her LHS debut. The Lions also played well defensively.
The lone obvious glitch was a lack of focus that overcame Lansing early in game one against Blue Valley. Trailing 7-6, the Lions allowed the Tigers to rattle off five unanswered points. An angry Slater called a timeout and was to-the-point with her players.
"I said that's too many unforced errors," she said. "You know what an unforced error is. That means they're just serving it, and you're handing it to them. Clean it up and make good decisions.
"They knew exactly what I was telling them," she added. "Sometimes you've gotta put the thumb down, and this team obviously responded very well to that."
Boy did they ever.
The Lions broke the huddle, returned to the court and unleashed a 9-0 run that was keyed by three kills from senior Kristen Jensen.
"She was a spark to our offense," Slater said. "She was running the offense when she was setting, and then she sparked it as a hitter. It was a great night for her."
Milnark also added three kills in the offensive outburst that gave LHS the lead for good.
Lansing will take its 2-0 record into the Lansing Invitational at 9 a.m. Saturday at the LHS gymnasium. The Lions will play a 9 a.m. match against Sabetha, a 10 a.m. match against Basehor-Linwood and a 1 p.m. match against Shawnee Mission North before beginning bracket play. North is ranked No. 4 in the Class 6A poll and already owns a victory over Class 5A powerhouse Shawnee Heights.
JUNIOR VARSITY WINS TWO
The Lansing JV remained undefeated this season by winning a pair of two-game matches against Turner and Blue Valley.
Photo Gallery
JV volleyball sweeps Turner, Blue Valley
The Lions (5-0) cruised past Turner, 25-9, 25-8, and then beat Blue Valley, 25-22, 25-18.
Sophomore Meghan Reilly fired a pair of aces as part of a 4-0 run to start game one against Turner. That was just the start of good things for the Lions as juniors Katie Cristiano and Megan Grimm, sophomores Madison Brandt and Kristen Gould and freshman Allison Ewing took turns pounding kills. Cristiano and freshman Sara Slater each had a pair of aces in game two.
Game one against Blue Valley was tied early, but back-to-back aces by freshman Kiersten Kirkendoll helped the Lions distance themselves and eventually pull away for the victory.
The JV Lions next play at 5 p.m. Tuesday at home against Gardner, Bonner Springs and Spring Hill.