Jaqua topples school record as
LHS

girls roll to Girard title
Craig cruises to second place in boys race
Lauren Jaqua opened her cross country career last year by placing second at the Girard Invitational.
This year, the Lansing High sophomore left nothing to chance.
She darted from the pack moments after the starting gun fired, and shortly thereafter the end result was obvious.

"By the mile-and-a-half mark, it was over," LHS coach Errol Logue said.
Jaqua rolled to a first-place finish in the four-kilometer race in a course- and school-record time of 16:02. For comparison, her runner-up time last year was 17:08.
"Lauren just ran with reckless abandon," Logue said. "She just sling-shotted herself out there. By the two-mile mark she was really hurting, but that's what she needs to do."
Jaqua's performance was just one of many outstanding marks turned in by the six-sophomore, one-freshman varsity lineup that logged a first-place finish in the team standings. LHS placed five runners in the top eight and collected a team score of 19 points, well ahead of runner-up Girard's 47.
Sophomore Sarah Nielsen, competing in her first cross country race after playing tennis last year, finished fourth overall in 16:48, one second out of third place.
"If it wasn't for Jaqua, she'd have had the school record," Logue said of Nielsen. "That's pretty dog-gone good for your first race."
Sophomore Abbey Lozenski finished sixth in 17:31, sophomore Melanie Pilkington was seventh in 17:40 and sophomore Julia Winkler was eighth in 17:57.
Freshman Cassie Roberts was 11th in 18:11 and sophomore Kate Meara finished 16th in 18:52.
The Lansing boys also had a stellar day as they placed second with 57 points, 11 behind meet champion Girard.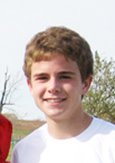 The Lions' day was highlighted by a runner-up finish by sophomore Brandon Craig who turned in a personal-best time of 17:15. Last year he finished sixth at Girard in 17:59.
Craig was sandwiched between meet champion Johnny Webb of Girard, who covered the five-kilometer course in 17:00, and third-place finisher Eric Strukel of Girard who ran a 17:22.
"The two he ran with were two of the best in that part of the state, and he took 'em on," Logue said. "That's unusual for him, but that's how he needs to run. At the mile mark they were all together, and he really went after them."
Senior Griffin Davis finished 12th in 18:04, more than 20 seconds faster than he ran the same course last year. Senior Jim Mayes was 18th in 18:49, junior Grant Hinckley was 19th in 18:51, junior Greg Bremser was 21st in 19:21 and junior Matt McCurry finished 26th in 19:53.
Lansing's junior varsity squads also fared well. The LHS boys had the top four performers in the two-mile race. Freshman Pete LaMoe placed first in 12:01, junior Ezra Carpenter was second in 12:10, junior Michael Hornick finished third in 12:14 and junior A.J. Glowacki was a second behind him in fourth place.
In the girls' two-mile JV race, junior Natalie Hangel finished 11th in 15:38 and sophomore Catherine Borderud was 14th in 16:12.
Although Logue was pleased with the way his squads performed, he admitted that the competition pool wasn't nearly as deep at Girard as it will be at future meets this season. That includes the Bonner Springs Invitational at 4 p.m. Wednesday at Wyandotte County Park. The Lions will see some of their Kaw Valley League foes at that meet, and Logue said it will provide a good measuring stick to see where his runners stand compared to other top teams in the area.
"I'm real anxious to see how the girls will stack up in there and run in that kind of competition," he said. "If we can be competitive, I'll be real optimistic about going to state."