Perry — Yes, the Lansing High football team was physically present Friday night at Perry-Lecompton.
Beyond that, the Lions did little to make their presence felt during a 42-13 loss to the Kaws.
Photo Gallery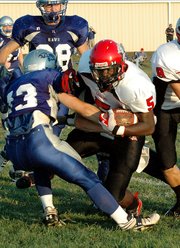 Perry routs Lansing
After the game, LHS coach Bill Pekarek said his players seemed to overlook Perry - one of the Kaw Valley League's top teams the past two years, and the on-field performance certainly supported that theory.
The Lions allowed the Kaws to rush for 350 yards at an average of 7.61 yards per carry. They let the Kaws outgain them by a 460-225 margin in total offense. Running back Shane Gimzo piled up 206 rushing yards on 17 carries. Perry also averaged almost 37 yards per kickoff return and more than 11 per punt return.
Meanwhile, the offensive line rarely made a block, wide receivers dropped two passes in the endzone and, with the exception of fullback Brad Terron, the running backs didn't run with fire.
It was a stunning reversal from last week when Lansing throttled rival and defending league champion Tonganoxie, 42-6, in the season-opener.
"Maybe our players were a little bit overconfident coming off the Tongie win or something, but you've got to be ready to play every week," Pekarek said. "We certainly came out and didn't play up to what we're capable of. We missed a lot of tackles. Our tackling looked terrible tonight. Offensively we didn't execute like we're capable of executing. People didn't do their job. We need everybody doing their part, and we didn't quite do that tonight."
With the exception of two long runs by Terron, the Lansing offense struggled to make much happen during the first half.
The first was a 57-yard touchdown stampede by Terron late in the first quarter that tied the game at 7-7. A 15-yard rumble up the middle at the end of the second quarter was the other. Beyond that, the Lions accomplished little while punting four times before intermission.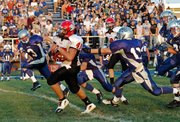 The Kaws led 13-6 at the half thanks to a 10-yard touchdown pass from quarterback Caleb Denton to tight end Joel Grantz in the first quarter and a 12-yard touchdown by Kyle Morgison off a pass from running back Shane Gimzo in the second quarter. Tyler Strouhal blocked the extra point, and Chris Hill intercepted a pass in the closing seconds of the half. If not for those defensive stops, the deficit would have been worse.
Outside of those plays, the LHS defense was porous during the first half.
The tackling ineptitude was even worse in the second half, however.
Gimzo broke through multiple arm tackles for a 38-yard gain on the first play of the third quarter. Two plays later Denton trotted in for a six-yard touchdown. The two-point conversion made it 21-7.
Lansing rattled off an 11-play drive on its next possession, but back-to-back dropped passes - including one in the endzone - halted the momentum. Perry needed just four plays to go the other way. A 68-yard dash through more arm tackles ended when Denton reached the endzone for another score. The two-point conversion gave the Kaws a 29-7 lead with 4:14 left in the third quarter.
Things continued to get uglier for Lansing. Poor blocking and timid running led to a fumble on the Lions' next possession, and the Kaws turned it into a three-minute, 74-yard scoring drive. Denton's 12-yard pass to Grantz made it 36-7. The Lions followed that by throwing an interception on the final play of the quarter.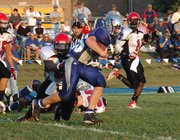 Lansing scored a fourth-quarter touchdown on a two-yard pass from Bobby Hauver to Matt Robbins. Perry added one more touchdown in the final minute to complete the scoring.
"I want them to remember this, and I want them to come in with a little more fire to play harder at the very beginning of the game," Pekarek said. "I think we came out and thought 'Oh well, we're going to beat these guys. Oh well.' And it didn't happen."
The lone bright spot for Lansing was Terron's continued success on the ground. One week after rushing for 107 yards on eight carries, he piled up 104 yards on just six carries against Perry. Beyond that, there was little for the Lions to feel good about on the bus ride home.
"We're a little bit embarrassed by this," Pekarek said. "We think our football team is a better football team than this, but you can't play up and down and that's what we did. We just had a great week last week and a poor week this week, and we hope that we learn from that and we're ready to play every week."
Lansing next plays at 7 p.m. Friday at Santa Fe Trail.
NOTES
- Terron is Lansing's leading rusher this season with 211 yards and two touchdowns on 14 carries. That's an average of 15.07 yards per carry.
- Quarterback Bobby Hauver completed eight of 21 passes for 91 yards, but two of his passes were dropped in the endzone.
- Terron was Lansing's leading receiver with three catches for 36 yards.
- Justin Smith was Lansing's top tackler with 11 stops. Terron added eight tackles and David Dickson had seven.
- Eddie Silva had a fumble recovery.
- Chris Hill had an interception.