Lions leave no doubt
LHS

wins first home tournament since 2003 with dominant performance
The last time the Lansing High volleyball team hoisted the first-place plaque at the Lansing Invitational was back in 2003, and it had been three years since LHS last made the finals of the home tournament.
After a four-year championship drought, Lansing finally claimed victory again at its home tournament, and the Lions did it with a roster of players whose names might one day also be included among the program's greats.
Photo Gallery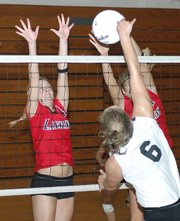 Lansing Invitational champs
It took a total team effort, but Lansing relentlessly unleashed its arsenal of weapons while steamrolling through the competition to win the tournament title. LHS won all of its matches in two games. That included a 25-15, 25-13 dismantling of Class 6A No. 4-ranked Shawnee Mission North in the final match of pool play, a 25-11, 25-21 victory over Class 6A vote-getter Olathe Northwest in the semifinals and a 25-22, 25-17 throttling of previously unbeaten Class 6A vote-getter Shawnee Mission West in the finals.
LHS coach Julie Slater, who celebrated her 50th birthday Saturday, said she wasn't surprised to see her players perform so well.
"I certainly know they're absolutely capable of what they did," she said.
"I think we can compete with just about anybody this year," she added. "But it's going to be tough. We're going to have to play at the top of our game all the time."
With the exception of a few brief lulls, the Lions were on top of their game all day. Front-line hitters Lisa Angello, Brittney Lang and Rachel Milnark thundered kills all day while Sara Logan and Erin Griffen provided additional offensive support, Angello dazzled with her jump serve, Logan was a defensive force on combination blocks, Julia Bates and Kristen Jensen ran a fluid offense, and Breanne Sanders, Katie Nietzke and Morgan Chiles provided steady defensive support on the back row.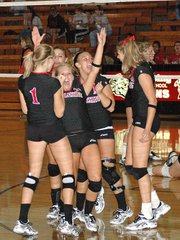 Teamwork was the obvious key, and Angello said the Lions understand that is a critical element to their success.
"We're strong everywhere, and it shows," she said.
The Lions next play at 5 p.m. Tuesday at home against Bonner Springs, Spring Hill and Gardner-Edgerton.
Lansing now is 8-0 this season and currently receiving votes in the Class 5A poll. They likely will crack the top five when the new poll is released on Wednesday.
For a full recap of the Lansing Invitational, pick up the Thursday, Sept. 13, edition of The Current.