Lansing girls third at Bonner Invitational
Jaqua places third in girls race; Craig leads
LHS

boys with fifth-place finish
Kansas City, Kan. — For the better part of two miles on Wednesday at the Bonner Springs Invitational, Lauren Jaqua searched for cracks in the big green wall that the De Soto cross country team formed at the front of the pack.
During the final half mile of the four-kilometer race Jaqua saw the wall begin to crumble. As De Soto runners gradually fell off the pace, the Lansing High sophomore made her move with the lead pack. De Soto's Carly Stanly ultimately finished first in 16:28 and teammate Ellie Sheridan was in second place a second off the pace, but Jaqua came in third in 16:31 at Wyandotte County Park.
Photo Gallery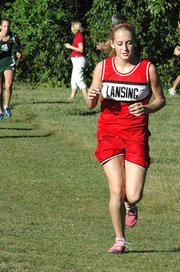 Bonner Springs Invitational
"It was amazing to run with them and see how they ran as a pack, and then to stay right with them," she said. "It got pretty physical trying to keep my spot in the middle of this huge pack, but it feels really good to take 'em."
The next four runners after Jaqua were all De Soto runners, but LHS teammates Sarah Nielsen and Abbey Lozenski weren't far behind. Nielsen finished 11th in 17:31 and Lozenski was 13th in 17:38. Julia Winkler also was a top-25 medalist for the Lions as she finished 23rd in 18:21.
Rounding out the Lansing lineup were Cassie Roberts (34th, 18:55), Melanie Pilkington (37th, 19:05) and Kate Meara (42nd, 19:30).
De Soto's dominant pack strategy paved the way for the Wildcats' first-place team finish with 18 points in the nine-team meet. Mill Valley finished second with 79 points and Lansing was third with 83.
For Jaqua, Wednesday's race was one of the gutsier performances of her young prep career, and it also served as a reminder to area runners that she will be a contender for the Kaw Valley League championship this season after finishing as the runner-up a year ago.
The overall team performance indicates that the Lions might contend for a team title as well at the league meet. That's saying a lot considering five of the varsity runners are new to the sport this year.
The narrow margin separating Mill Valley and LHS provides an intriguing look at just how close some of the KVL top teams are. Especially when taking into consideration that Pilkington ran through pain Wednesday while breaking in orthotics in her shoes. She usually runs with Lozenski and Winkler.
Other league foes in attendance were Bishop Ward, Bonner Springs, Basehor-Linwood and Santa Fe Trail. Basehor, the defending KVL champion, was seventh with 153 points on Wednesday.
"I see ourselves as a contender because we're so young and we have so many girls who've never done it before," Jaqua said. "But I also think that if we're this strong early on, I think we can take league."
LHS coach Errol Logue agreed that the Lions are contenders this season, and he said that has every bit to do with the team's new faces.
"We knew that Jaqua and Abbey were going to be good for us," he said. "The newcomers are the difference. Nielsen and Pilkington and Julia and Cassie and Meara : they're all new, but they're doing a great job."
Lansing will face last year's league runner-up, Tonganoxie, on Thursday, Sept. 20, at the Tonganoxie Invitational. That meet should give a clearer indication of who the league favorites are.
On the boys' side, sophomore Brandon Craig blazed to a fifth-place finish in the 5K race in 17:23. He missed a top-three finish by just three seconds, and Brooks Ballou of Bonner Springs (fourth, 17:21) was the only KVL foe to finish ahead of Craig.
Craig's performance also positions him to be one of the top contenders for a league championship this year. Craig said his strong running this season is a reflection of his experience as a runner.
"I just kind of got what Mr. Logue said when he said stay with the top people, be aggressive and don't be afraid of them," he said.
Griffin Davis placed 32nd in 18:36, Jim Mayes was 47th in 19:22, Pete LaMoe placed 52nd in 19:41, Greg Bremser was 55th in 19:45, Matt McCurry was 62nd in 20:16 and Grant Hinckley was 67th in 20:38.
De Soto landed four runners in the top 10 and placed first with 39 points. Paola was the runner-up with 59 points and Bonner Springs was third with 69. Lansing placed seventh with 180 points.
In the junior varsity boys' 5K race, Ezra Carpenter was Lansing's top performer. He covered the course in 19:47 and placed seventh out of 118 runners. Also competing for LHS were A.J. Glowacki (24th, 21:05), Michael Hornick (46th, 22:07), Alex Twitchell (79th, 23:44), Matt Lorenzen (81st, 23:48) and Russell Buchanan (83rd, 23:57).
In the JV girls' 4K race, Natalie Hangel was Lansing's top finisher with a 14th-place finish in 20:25. Also competing for Lansing were Katherine Borderud (16th, 20:38), Emilee Taylor (26th, 21:26), Cheyenne Rettele (37th, 22:20), McKenna Hall (44th, 23:05), Elizabeth Parks (47th, 23:42), Jennifer Totleben (63rd, 25:04) and Natalie Roper (70th, 26:20).