West snaps Lansing's win streak at 13
Vikings claim victory in rematch with Lions as state powers clash
Overland Park — This time it was Shawnee Mission West's turn to play lights out.
Five days after Lansing High throttled West in two games in the finals of the Lansing Invitational, West got revenge on its home court Thursday night. In the last match of the night at the SM West Quadrangular, the Vikings punished the Lions for mistakes and earned a 25-20, 25- 13 victory.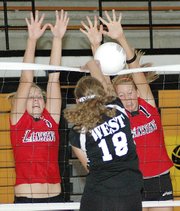 It was a humbling defeat for Lansing after starting the season 13-0 - a streak that included a 15-25, 25-11, 25-15 victory over Olathe East and a 25-9, 25-13 rout of Olathe North earlier in the evening.
"We need to be happy that we can play that kind of competition and learn from it," LHS coach Julie Slater said. "That's how you get better."
The Lions expected to receive the Vikings' maximum effort, and that was certainly the case. Still, the Lions opened game one on a 3-0 run courtesy of a solo block by Sara Logan and a block and kill by Brittney Lang. Lang added three more kills and Julia Bates combined for blocks with Lang and Lisa Angello as LHS opened up a 19-11 lead.
Then mental fatigue kicked in, and West capitalized. A handful of hitting errors and three net violations by LHS gave points to West. Meanwhile, the Vikings' confidence skyrocketed on the momentum as they rattled off a stunning 14-1 run to close the game.
Lansing made more mental mistakes in game two, including a rotation violation and more net violations, and West rode the enthusiasm of a supportive home crowd while putting away the match.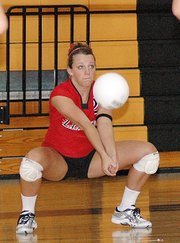 The loss to West, the No. 4-ranked team in Class 6A, came at the end of a stretch where the Lions, ranked fourth in Class 5A, played 14 matches in eight days. The fatigue was troublesome all night, as evidenced by a slow start against Olathe East and a sluggish stretch against Olathe North.
"Fourteen matches in a week is tough," Slater said. "We could feel the lull in the first two matches, but I was proud of them for the way they got up for this match. I thought the enthusiasm and effort was there, and then the wheels just fell off."
Lansing faced its first real adversity of the season in its first match of the night against Olathe East. LHS dug itself a 10-1 hole in game one as its timing and reflexes were a half-step slow. East won the game easily, but Lansing regrouped and roared back to win games two and three.
Lansing faced no real threat against Olathe North. Rachel Milnark and Angello dazzled early, and then Breanne Sanders (two aces) and Erin Griffen (two kills) shined late in the lopsided victory.
After the busy week, the Lions have the weekend off before returning to action at 5 p.m. Tuesday at home when they open the Kaw Valley League season against Perry-Lecompton and Basehor-Linwood. Tuesday also is Senior Night at LHS. Seniors Katie Nietzke, Morgan Chiles, Kristen Jensen, Griffen and Logan all will be recognized.