Trail-blazing
Lansing piles up the offense in 50-25 shellacking of Santa Fe Trail
Carbondale — Order has been restored to the Lansing High football world - at least for one week - thanks to the Lions' triple threat of running backs Friday night.
LHS stampeded to a 50-25 victory at Santa Fe Trail as the trio of backs piled up more than 300 rushing yards. Senior tailback Chris Hill led the way with 173 yards and two touchdowns on 15 carries. Senior fullback Brad Terron added 77 yards and a score on eight carries and junior tailback Brenton Smith added 66 yards and a touchdown on eight attempts.
Photo Gallery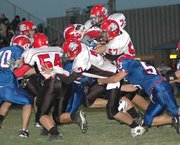 Lansing 50, Santa Fe Trail 25
It was a breakthrough night for the Lansing offense, and it was a much-needed performance for the Lions a week after giving a lackluster effort in a 42-13 loss at Perry-Lecompton.
"It was all attitude," Hill said of the difference between last week and Friday night. "Last week we came in a little slacking and a little lazy, and we got beat. We came in this week focused and ready to go, and it showed on the field.
The ground game was unstoppable, but Lansing's air attack was equally stellar. Senior quarterback Bobby Hauver was on-target all night as he completed five of six passes for 135 yards. Included in those completions were a 24-yard touchdown pass to senior Kevin Johnson, a 46-yarder for a Terron touchdown and a 31-yard scoring strike to senior Justin Smith.
"We just wanted to show everybody that last week was a fluke and Lansing is a team to be reckoned with," Hauver said. "Everything was clicking. Brad was running the ball hard. Chris was running the ball hard. Everybody was catching passes. But again we can't do anything without the offensive line doing their job, and they did a great job for us tonight."
The Lions wasted no time proving they were 100 percent focused on Perry. Bucky Zimmerman delivered a bone-crunching hit on the opening kickoff that fired up the LHS sideline. Eight plays later Johnson intercepted a pass and gave the Lions their first possession of the game. They promptly rattled off an 11-play drive that was capped by a seven-yard touchdown run by Hill. He also ran in the two-point conversion that put the lead at 8-0 with 1:52 left in the first quarter.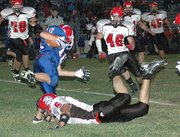 Trail responded with a 69-yard scoring drive that concluded with a 30-yard touchdown pass from Cody Godshall to Dustin Hill. The two-point conversion failed, however, and the Chargers would get no closer.
Lansing answered with a four-minute, nine-play drive that led to Johnson's touchdown catch off a Hauver rollout. It was the first of three LHS scores in the quarter. Terron had a 46-yard touchdown catch and later made a 46-yard scoring scamper on a fake punt. Matt Robbins kicked the extra point on all three touchdowns in the quarter and sent the Lions into halftime with a 29-6 advantage.
Hauver connected with Justin Smith for a 31-yard touchdown on the opening drive of the second half, but the Chargers responded with two quick touchdowns sandwiched around a Lion turnover and pulled within 36-19 with 2:20 left in the third quarter.
"Santa Fe played good at times, and we had trouble with them at times," LHS coach Bill Pekarek said. "And all of a sudden we'd have a couple of big plays."
Brenton Smith provided the spark when the Lions needed it. He busted out a 31-yard run to the left, and followed it with runs of 11 and two yards before punching in a three-yard touchdown. The Lansing defense forced Trail to punt on its ensuing possession, and then Hill took a toss play to the left, turned the corner and exploded down the sideline for a 75-yard score that put the lead far out of reach.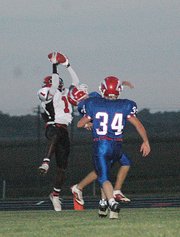 Trail added a touchdown against the backups with 1:25 remaining.
Lansing heads back to practice this week in preparation for a 7 p.m. Friday showdown with Bonner Springs on the road. The Braves are 3-0 after handing Tonganoxie a 30-8 loss. They are tied with Mill Valley atop the Kaw Valley League as the lone remaining unbeatens.
Terron said the Lions must prepare for the Bonner game with the same mentality they had for the Trail contest.
"We can't be overconfident because if we do, something like Perry will happen again and we don't want that at all," he said. "We're going to go in there with the same intensity and same feeling that we can beat these guys, but we can't be overconfident. We're just going to go in there and do our best and hopefully pull out a win."
NOTES
- Hill's 173-yard, two-touchdown performance was the second best outing of his career. He had a 179-yard rushing game against Mill Valley last year.
- Terron's 77-yard rushing performance against Trail upped his season total to 288 yards on 22 carries.
- Smith's 66 yards marked his highest single-game total as a varsity player.
- Hauver's three touchdown passes were a career high.
- Justin Smith caught two passes for 50 yards and a touchdown.
- Kevin Johnson had two catches for 39 yards and a touchdown.
- Justin Smith was Lansing's top tackler with 11 stops. Terron had eight tackles and Johnson added seven.
- Eddie Silva had his first interception of the season when he picked off a pass and returned it 13 yards late in the second quarter. The interception set up Lansing's final touchdown of the first half. Silva nearly had another pick in the second half.
- Robbins made all six of his extra-point attempts.
- Lansing piled up 467 yards of total offense compared to just 266 for Trail. The Lions also had 332 yards on the ground and averaged 8.74 yards per carry.
- LHS was penalized seven times for 56 yards.