Fly rods, casting rods, spinning rods. You name it, and Dick Boultinghouse can build it.
Boultinghouse, who operates Dick's Styx Custom Rods & Rod Repair out of his home in Lansing, has been designing custom-made, handcrafted fishing rods since 1971.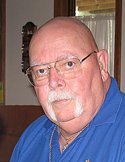 "I started working on fishing rods strictly for me and maybe a buddy who might get one," Boultinghouse, who has assembled between 200 and 300 rods over the years, said. "I'll replace one, give one to a friend or, occasionally, if they pay for the materials, I'll make it for someone else."
Although it's still more of pastime than an occupation, Boultinghouse began using his operation as a legitimate business a year or two ago after retiring from a law enforcement job.
Boultinghouse first determines what the person will use the rod for, whether it is to catch croppie, catfish, bass or for general purposes, and then he makes adjustments for the length and stiffness of the rod.
"You also have to determine how much money he wants to spend," Boultinghouse said. He said a graphite or fiberglass blank or shaft can run anywhere from $40 "if you're lucky" to $300 "to get into more of the brand names."
Boultinghouse then decorates the rods by hand using acrylic paints and epoxy and adds a cork handle and reel.
He said seeing a sharp finished product is the most rewarding part of his work.
"I like seeing something I did, that I can look at and say, 'This is mine,'" Boultinghouse said. "It gives you a little bit of pride."
One of Boultinghouse's most memorable creations was a rod for a lady that had never fished before in her life. The lady wanted it in chartreuse and hot pink.
"I thought it would be the ugliest color I'd ever seen, but it ended up, if she didn't want it, I'd have kept it for myself," he said. "I kind of liked it."
Boultinghouse said he often fishes Smithville Lake or Clinton Lake and loves to go down to northeast Oklahoma in the Grand Lake area.
"I could fish all day long, not catch a thing and be totally relaxed."
Besides building fishing rods, Boultinghouse also is a certified instructor for a Kansas concealed carry handgun course, and, as a former police and Army officer, he has trained military personnel as far away as Haiti, Kosovo, Bosnia and Jordan.
NAME: Dick Boultinghouse
ADDRESS: 135 Rock Creek Loop, Lansing
OCCUPATION: Retired, U.S. Army
FAMILY: Judy, wife; Brent, son; Bart, son
HOW LONG HAVE YOU LIVED IN LANSING, AND WHAT BROUGHT YOU HERE? "The Army brought me here. I've been here, in this house, since '89, and I've lived in the area since '84."
WHAT DO YOU LIKE MOST ABOUT LANSING?
"I liked this area out here, when we first moved in, because it was nice and quiet:it's just a nice place to be."
WHAT DO YOU DO FOR FUN? "Basically my recreation is fishing, building fishing rods, hunting or shooting."
WHAT IS THE BEST ADVICE YOU HAVE EVER RECEIVED? "A particular set of advice, no, but I've been fortunate enough to have had good examples around me."